Kota Shivaram Karanth, the Titan
A Biography by Jyotsna Kamat
First Online: August 17, 2005
Page Last Updated: January 10, 2018
Dr. Kota Shivaram Karanth would have been regarded as a genius of 20th century, had it been possible to render some of his works aptly in English language -- so vast have been his creativity, universality and human interests. He excelled in originality and experimentation in literature and has depicted human imagination and faith in human endeavor. Besides creating writing in almost all literary forms, he tried his hand in theatre, folk-arts, photography, film production; he ran a school, he was a social worker, he ran a press and published many of his earlier works himself.
The output of his writing is amazing. Forty four novels, sixteen plays, seven musical plays, twenty five children's books, collection of short stories, twelve science books, nine art books, five biographies and five volumes of autobiography, four volumes of science encyclopedia, three volumes of children's encyclopedia, and a dictionary. He single-handedly managed the compilation, editing, and writing of these works! Besides, there are more than a thousand essays, pen-portraits, reviews, tributes, letters, and literary notes.
K.L. Kamat/Kamat's Potpourri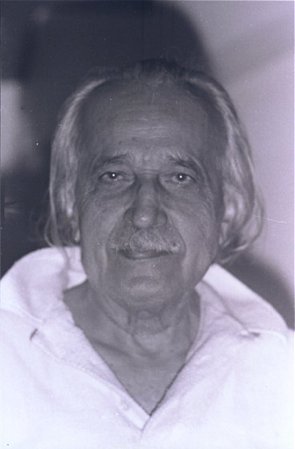 Shivaram Karanth (1902-1997)
Portrait of Shivaram Karanth
Karanth is well known in India for experimentation. Most of his novels vary in theme, technique and their presentation. "Marali Mannige" (Return to the soil) deals with the theme of three generations of a family in the coastal village, who face hardships of life with courage and adjust to changing times. "Bettada Jeeva" (Man of the hills) depicts the extraordinary life of a brahmin farmer who accepts challenges of nature and wild beasts, pestering Malaria, along with differences in the family with equanimity. "Maimanagala Suliyalli"(Whirl of the body and mind) brings out attempts of a talented woman with a creative mind, to attain fulfillment of physical and intellectual cravings, and her partial success. "Alida Mele" (Life after Death) is the unraveling character of a dead person who leaves behind a vague letter with some clues to his friend the author. The saga of search for the persons mentioned in the letter, provides several insights in human mind and behavior.
K.L. Kamat/Kamat's Potpourri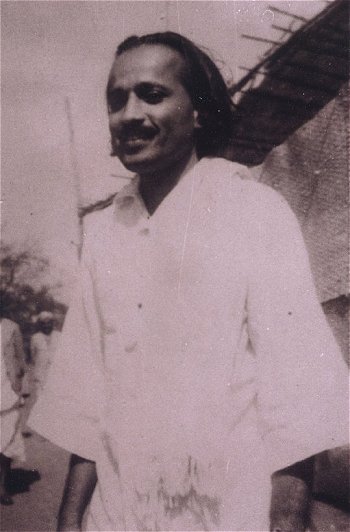 Shivaram Karanth the Genius
Photograph from Manohara Grinth Mala collection
"Mookajjiya Kanasu"(Mookajji's dreams) which brought Karanth the Jnanapeeth award in 1977 deals with the visions of an eighty year old who has undergone widowhood for seventy years and innumerable sufferings but has not lost faith in life. The whole novel runs in the form of dialogues between Mookajji and her grand- nephew interspersed with her musings. Mookajji verily represents Indian Ethos in a nutshell. Karanth's respect for women is deep as seen in his female characters, all the more in Mookajji.
Besides Jnanapeeth, Karanth is the recipient of the Central and State Sahitya Academy awards, Swedish Academy Award for services to folkdance, honorary doctorates of Mysore and Karnataka universities, and many other literary and research honors. He returned his Padmabhushan honor in protest against the Emergency, imposed by Indira Gandhi.
K.L. Kamat/Kamat's Potpourri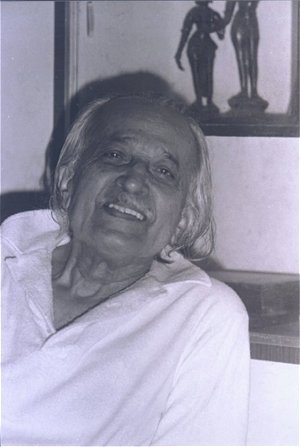 Shivaram Karanth

A widely traveled man, he had visited several countries, besides every village in North Kanara and South Kanara districts, and most of the Indian states. But world travels and great honors had not affected his simple habits, and love of nature and rural life. As the President of the thirty seventh Karnataka Literary conference held at Mysore in 1955, he declared, "It is true that a number of experiments are being tried in literature. That is the mark of a living literature. But technique, style and form, all find their fulfillment only in their power to carry to the mind and the heart of the reader, the message, emotion and vision of the writer". This was his approach throughout. In spite of being a great experimenter himself, his style is simple, clear and direct.
K.L. Kamat/Kamat's Potpourri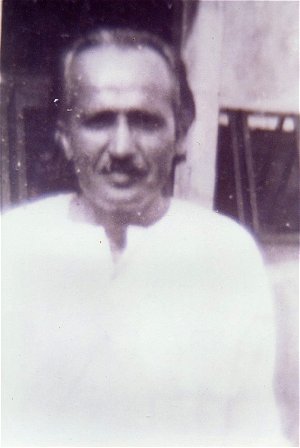 Pioneer Shivaram Karanth
Picture Taken 1954 Kannada Literary Conference in Kumta
Perhaps his greatest honor came when he turned ninety, in the form of an institution, "Center of Advanced Studies", was established in his name at the Mangalore University. It has brought out nine volumes of scattered writings of Shivaram Karanth written over a period of seventy five years. These volumes are painstakingly and deftly edited by Malini Mallya who served as Karanth's secretary in the later years and an established writer herself.

See Also: