by Krishnanand Kamat
First Online: March 07, 2000
Last Updated: January 10, 2018
© Vikas Kamat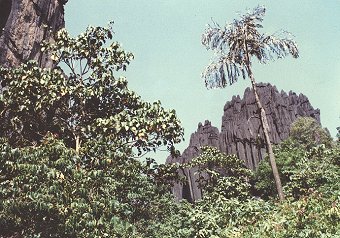 Geography
Yana is a pilgrim center located amongst the evergreen forest of the Sahyadri mountains. It is 25 km for Kumta (locate), a small coastal town and 40 km for Sirsi, a commercial center. One has to walk several miles on the partially paved road from the highway. The area is known for its majestic mountains, a variety of rock formations , tricking water falls and the holy temple. The tallest peak, Bhariraveswara Shikhara stands 120 meters high, whereas the Mohini Shikhara is ninety meters from its base. The mighty rocks have been roughened by the vagaries of burning Sun, uncontrolled winds and torrential rains. They are solid composition of black, crystalline limestone. Wild bees have taken liberty to construct their hives on these rock-shelters.

A large cave, a, measuring about three meters at the entrance, has a Shivalinga. Water drips from the projecting rocks over the linga, and devotees call it Gangodbhava. The cave also has a bronze icon of Chandika, an incarnation of mother Goddess Durga. Trickled from the rocks form a small river, 'Chandihole' which joins the Aghanashini river at Uppinapattana.

© Vikas Kamat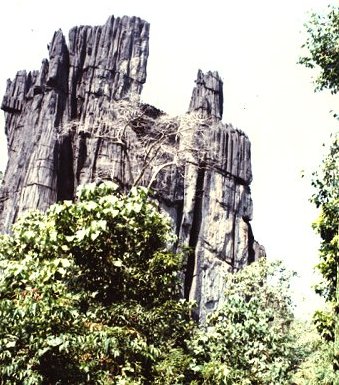 Where Bhasmasura meets his match
Yana is linked with an extremely interesting mythological episode. Pleased with pains-taking penance of Bhasmasura, Lord Shiva granted him the power of reducing anybody to ashes -- on whose head he could lay his hand. Armed with this blessing, Bhasmasura became uncontrollable. He dreamt of eloping with Shiva's beautiful wife, Uma, and tried to burn down Shiva. It is believed that Lord Shiva then came down to earth and hid himself in a cave at Yana. In order to save Shiva-Parvati from the evil design of the demon, Lord Vishnu assumed the form of an young, beautiful female dancer, Mohini, and challenged Bhasmasura to compete with her in a dance performance. During this performance, Mohini made, the demon to keep his hand on his own head and reducing himself to ashes. Even today a white ash-like powder is scattered all around Yana, and the faithful believe that it is the remains of Bhasmasura.
© Vikas Kamat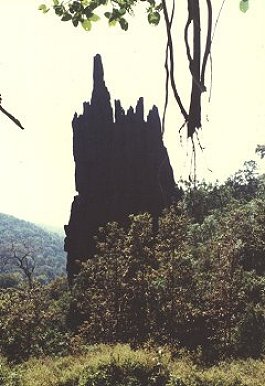 Breathtaking Scenery On way to the Yana Temple

Yana of Today
An annual festival is held during Shivarathri and a large number of devotees visit the place. They take bath in Danditirtha and worship Shiva Linga. They also collect holy water, carry it to Gokarn in order to perform 'Maha-Mastakabhisheka of Mahabaleswara'. There is saying in Kannada language that on Shivaratri day devotees rush to Gokarn, for worship whereas people of that town travel to Yana for the same purpose!

Yana of Yesterday and Tomorrow
Dr. Francis Buchan a British official, undertook a journey to Yana in 1801 on behalf of The East India Company and surveyed the area. He noticed around ten thousand dwellings in and around Yana. Since then the population dwindled as soil eroded and is now infertile. Today very few families live in the vicinity, the traditional Pujari's family is one of them. This helped to retained its serene calm and picturesque spot. However, this status of Yana may not continue for long. The geological surveys and a detailed study has revealed that the rocks are very rich in limestone, manganese and iron. Therefore, the area is very ideal to set up a cement factory. Some industrialists have shown keen interest in 'developing' this area and ,the Government is thinking of constructing an all weather road to Yana. Thus very soon Yana will become another victim of man 's greed for modern living.

See Also :
Jai Karnataka- miscellaneous topics on Karnataka including a map
K.L.Kamat's Home Page
Emerald Coast -- Articles and pictures of Uttara Kannada (North Kanara) district documented over five decades.


Yana