The Saraswat Saga
by Jyotsna Kamat
(Gist of the lecture in Konkani delivered by Dr. Jyotsna Kamat on January 9th, 2001 at Canara Union Bangalore)

Lecture Delivered: January 9, 2001
First Published Online: September 29, 2004
Page Last Updated: May 09, 2017
The word saga means a narrative story of legendary heroes and their deeds of heroism in hoary past. The adventurous community of Saraswats, is also known for their sharp intelligence and perseverance through centuries. Hence their saga, or story of struggle for more than a millennium and half, to maintain their identity against heavy social and political odds deserves special study. The word 'saga' has special significance with regard to this microscopic community in All India context.
The word 'Saraswat' has double meaning. One refers to 'offspring or Saraswati', the Goddess of learning applied usually to learned and scholarly people. But in the historical context, it usually denotes to residents of Saraswati river basin. About five thousand years ago, river Saraswati, was a mighty river originating in Himalayas and flowing through many regions of the sub-continent. Though tradition laid down that the river disappeared over ages, it was difficult to assess the vast area through which the river flowed and made the land fertile. Due to extensive satellite imagery, we are able to have now, an idea of its magnanimity. It surpassed river Sindhu which is often mistaken for ancient Saraswati. It originated in Himalayas, covered eastern parts of Iran, Afghanistan, Punjab, Sindh, Gujarath, Rajasthan, parts of Madhya Pradesh and Uttar Pradesh, down to Godavari valley.
Heart of the region was known as Saraswati Mandala. The brahmins of this region who are referred to as 'Saraswats' in Mahabharat and puranas were learned in vedic lore. They concentrated on studying various subjects like astronomy, metaphysics, medicine and allied subjects and disseminating knowledge.
Due to geo-morphosis taking place in Himalayas, river Saraswati began to dry up and the Saraswats started moving to different places. Some went to Kashmir in North (today their descendants are called Pundits, but they are essentially Saraswats) some others went to all adjoining states. Few made their way through Gujarat to Goa, came to be recognized as Goud Saraswats or Dakshinatya Saraswats, to distinguish them from other Saraswat groups of North. There is nothing common among Saraswat Groups in different states, due to separation and isolation over centuries.
K.L. Kamat/Kamat's Potpourri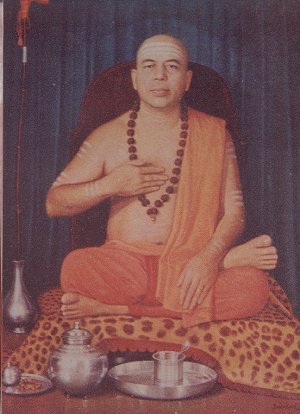 The Anandashram Swamiji of Shirali Muth

The new immigrants were called 'Goud' because they were followers of monism or advaita as preached by the great guru Goudapadacharya, who was guru of Govinda Bhagavatpada whose direct disciple was the great Shankaracharya, who is famous for resurrection of Hinduism or Vedic religion in India. The first math of Saraswats dedicated to the memory of Goudapadacharya was established in Kaivalyapura or Kavale in Goa in the 8th century A.D. To this day, the swamis of Kavale math are known as Goudapadacharyas. Thus Kavale Math is Gouda Saraswat Community's Adimath (first math) and three main sub-sects of Dakshinatya Saraswats, viz., Sashtikar (Dorke including Bardeshkars), Shenvis (Karbharis), and Chitrapur Saraswats (Bhanaps) were all known as Goud Saraswats or Konkani Brahmins till three-hundred years ago. Kudladeskars, Pednekars, Rajapuri Saraswats, Balavalikars form other sub-sects of Saraswats.
In the 13th century A.D., Dvaita (Vaishnava) philosophy advocated by Madhvacharya became popular and many Saraswats adopted vaishnavism. They however continued to worship the deities they brought with them from North. These were 'Mahan Girish' or Mangesh, Shakti or Shanta Durga, Vishnu, Ganesh and Surya. They form 'Panchayatan' or five deities, sacred to all Saraswats.
Goud Saraswats were spread in all the big and small kingdoms of western coast under different dynasties right from 6th century A.D. Kadamba, Rashtrakuta, Hoysala, Chalukya Silahara and Vijayanagara kings had given very important posts to Saraswats. There were admirals, treasurers, ambassadors, army chiefs and foreign language-interpreters among them. They were famous traders as well, who conducted maritime trade with Eastern and Western countries of the contemporary world. Since all the powerful dynasties that ruled the region were Kannada, the spoken language of Saraswats, which is Konkani has lot of Kannada influence. Early Konkani was written both in Nagari and Kannada characters. Many Kannada inscriptions are found in Goa and round about region. Goa was international port for whose capture many battles were fought by Hindu and Muslim rulers.
Then came the Portuguese for trade followed by Christian missionaries. Forcible conversions began to take place under the patronage of Portuguese government in 1560 A.D. Most of the Saraswat families left Goa with their family deities, risking life and limb. They settled down in the adjoining Hindu principalities. New temples came up in the coastal districts of Karnataka for Saraswat deities. When conditions slightly improved in Goa and forcible conversions stopped, the idols were taken back to newly constructed temples in Goa. But they are not in the original ancient spots, where churches were built, destroying earlier temples. Many people migrated to Kerala and built temples mainly dedicated to Lord Vishnu and his different avatars. Kashi Math at Kochi came up in 1560 A.D. and at Bhatkal in 1540 A.D. This was shifted to Gokarn hence known as Gokarn Jeevottama Partakali Math to include the name of famous Saint-Pontiff by the name Jeevottam of the Math stationed at Partakal or Partakali, Goa. Finally, this Math has its establishment at Kankon in Goa. All the Vaishnav Saraswats are Kulavis (followers) of either Kashi Math or Gokarn Math. 'Smarth' Saraswats owe allegiance to either Kavale Math or Chitrapur Math.
Saraswats continued to hold important posts under Keladi or Nagar rulers. Many families who emigrated from Goa settled down in smaller towns and villages in Shimoga, South and North Kanara Districts. Most of them became village accountants, some Accounts Officers or Divisions (Nada Karanik = Nadkarni) or group of villages (Kula + karanik = Kulkarni). Saraswats were the first beneficiaries of English education introduced in 1840 A.D. Very soon they began to show their grit skill and efficiency in all the fields. That is how we find bankers, industrialists, doctors, surgeons, educationists, administrators, freedom fighters and social reformers. They excel in the field of arts and sports as well.
K.L. Kamat/Kamat's Potpourri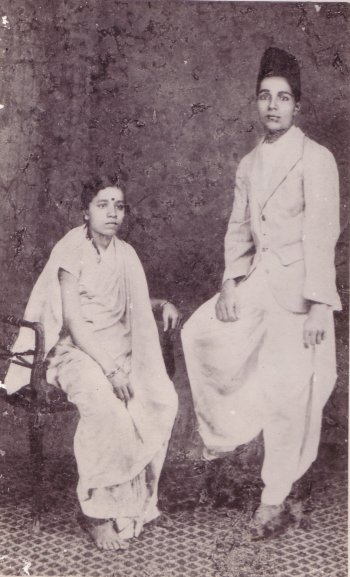 Saraswat Couple, from an Old Photograph

Among a billion Indians, the Saraswats form a miniscule minority. Their total number does not exceed two and a half lakh (250,000). However they are a big force. But due to globalization, smaller caste groups are fast disappearing and their indigenous cultural traits do not exist any more. But we have to remember that our ancients fought to retain their identity and culture, over the centuries. Youngsters must try to learn a bit of the brilliant past achievements of their community. The rich and ancient heritage is at the basis of this advanced people.

See Also:
People of India -- Wide ranging topics and pictures depicting the common and uncommon communities of India; their professions, life-styles, and values.
Brahmin Communities -- A comprehensive list of Brahmin communities of India documented for anthropological research purposes.
See More Konkani Pictures