Kamat in Karachi
Experience Occurred in August 1965
First Online: July 4, 2001
Page Last Updated: November 20, 2017
Bangalore
June 25, 2001
Dear Vikas,
Kamat writes about his visit to Karachi, in Pakistan
On the eve of Gen. Musharaf's visit to India, I want to tell you about my visit to Karachi in 1965.
I obtained a visa to visit Pakistan on the invitation of my former room-mate Dr. Sarwar (room mate when at ESF Syracuse

) in London on July 17th of 1965. The officers in the Consular Office of Pakistan belonged to both Bengali speaking East Pakistan (now Bangladesh) and the Urdu speaking West Pakistan (present day Pakistan). They fought among themselves and accused each other of inefficiency before issuing my visa.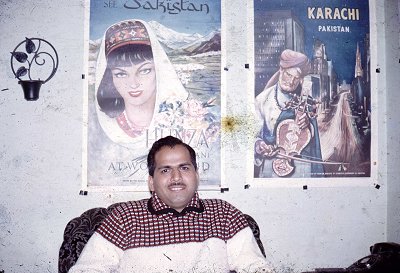 When I arrived at the Karachi Airport from London, the trouble between India and Pakistan had broken out. The jealousy and bickering had come to a boiling point and the officers at the airport could not decide whether to let me in or not. They discussed among themselves for a very long time and finally, since my contact was a professor of economics at the prestigious Karachi University, let me in the country. I stayed with Sarwar Saheb in the Nazimabad neighborhood of Karachi. All his relatives and friends told me I was just like Sarwar in my mannerisms and appreciated our friendship. We roamed around in Sarwar's brand-new Volkswagen. At that time, the Pakistani newspapers had started writing anti-Indian propaganda as their headlines, and everywhere I went, the people hid the newspapers, so that I was not offended. "The friendship between the people of the two countries should not be affected," they said. I was invited for tea at Mr. Khan's residence, who was a member of the Planning Commission of Pakistan. He recited "Without God, there is nothing in this world" song. They were building new campus for the Karachi University, and I inspected them. They had just renamed Gandhi Complex ("Gandhi Bhavan") to an Islamic name, but the people still referred to it as Gandhi complex!
© K. L. Kamat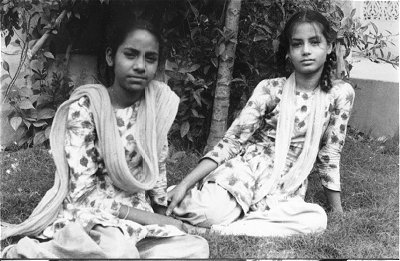 Girls of the Razvi Family
Karachi 1965

A gentleman from our state Mr. U. M. Nayak was working in Karachi as a consultant for a long time. Since he was also a Konkani, he befriended me. His loyal customers affectionately referred to him as "Nayak Sahib", and were very fond of him. I do not think they treated him like a foreigner! When I left for Mumbai, there were Hindus and Muslims who came to see me off. I arrived in Mumbai on August 21st of 1965, and the subsequent day, the war broke out between India and Pakistan.
I need not tell you that in1965, the way the people of Pakistan regarded India was completely different from the way the Government of Pakistan thought of India. To this date, the leaders of the two nations have forgotten the mutual warmth and friendship the citizens of each country enjoyed at one time.
Yours affectionately,
Bappa


The President of Pakistan General Musharaf and Indian Prime Minister held a summit at the backdrop of the Taj Mahal on July 15, 2001. But nothing came out of it.
See Also: