Akbar the Great
Akbar stands tall among the kings who ruled India. He was the greatest of the Moguls, the Muslim dynasty that dominated India between the early 15th and 18th centuries.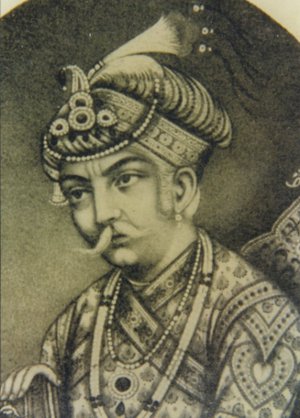 Akbar 1543 - 1605 A.D.
Akbar was exposed to the battles and powers of rule from a young age. Akbar inherited the throne, after the sudden death of his father king Humayun, at the age of 13, in 1556. In 1579 he abolished the Jizya, a tax imposed on all but the poorest non-Muslims. This was the most notable in a series of measures to recruit the Hindu majority and others to the cause of unifying and expanding his empire. He defeated an impregnable Hindu fortress in Rajasthan and went on to marry the Rajput princess Padmini, who was permitted to conduct Hindu rites in the harem.
Akbar's religious tolerance strengthened his empire and earns him his special place in history. He is credited with innovations in textiles and artillery alike. Himself an illiterate man, perhaps because of dyslexia, he loved learning and disputation. His administrative and fiscal innovations underpinned it for a century after his death. He patronized such scholars as Birbal, Abul Fazl and Tansen. He was subject to bouts of melancholy and what were probably epileptic fits early in life. He saw these as spiritual experiences; and perhaps they gave his curiosity a religious twist.
As his reign progressed Akbar moved ever further from Islamic orthodoxy. He built a capital, Fatehpur Sikri, around the tomb of a Sufi (Islamic mystic) saint who had prophesied the birth of his heir. Later he took to inviting clerics from various religions, including Portuguese Jesuits from Goa, to debate their faiths.
K.L. Kamat/Kamat's Potpourri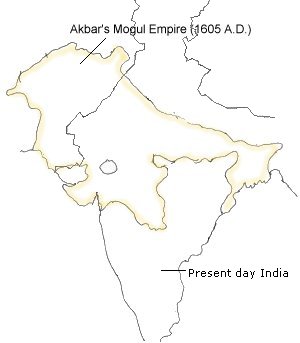 Span of Akbar's empire

Eventually, Akbar came up with his own "religion of god' Din-i-Ilahi, more a fraternal order, headed by himself, than a religion, based on a creed of harmony among peoples and a practice that involved making disciples of his leading nobles. Unsurprisingly, Muslim clerics saw this as blasphemy. Eventually, it became official policy to discourage, if not to prohibit, Islamic forms of prayer. Akbar paid the price in an abortive rebellion by his son, claiming to be a defender of the faith. Akbar softened towards Islam thereafter, and is thought to have died, in 1605, a Muslim, not an apostate.
His descendants, most notably, the deeply bigoted great-grandson Aurangzeb overturned the religious tolerance Akbar had established for the Mogul Government. Aurangjeb tore down Hindu temples and revived the Jijya--and a Hindu consciousness that after his death was to help pull the Mogul empire apart, weaken India, and let in the British.

References
Rizvi S.A.., The Wonder That was India -II, Rupa , 1993
National Geographic, When the Moguls Ruled, Vol 167, No 4, 1985
Schulberd L, and Editors of TIME-LIFE, Historic India, Time-Life, 1968
J.T. Wheeler, Wheeler's India, Peter Fenelon Collier, 1858
Babur Nama, The memoirs of Babur, Portfolio of 16th century miniatures, Archeological Survey of India
Economist, 12/31/99, Vol. 353 Issue 8151, Millennium issue p63, 2p, 1c.