Emperor Aurangjeb
First Online: March 11, 2001
Page Last Updated: November 20, 2017
Aurangajeb (a.k.a. Aurangzeb): 1618-1707, was the last great emperor of India and ruled the majority of the country from 1658-1707. He was a son and the successor of Shahajahan. He ascended to the throne after defeating his three brothers and imprisoning his father. However, unlike his father, who was a great patron of arts -- he built the magnificent Taj Mahal, Aurangajeb was a cultureless man and executed the court artists.
Aurangajeb was a tough ruler and expanded his kingdom in all directions. The Mogul empire reached its greatest extent under him, but he was fanatically devoted to Islam and persecuted the Hindus and Sikhs.
© K. L. Kamat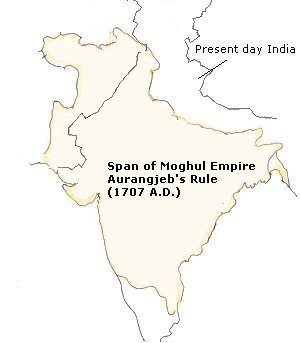 Span of Aurangjeb's Mogul empire
Aurangajeb is remembered in Indian history as the man who re-imposed the Jijya tax on Hindus, for his epic battles against king Shivaji, and as the man after whom the city of Aurangabad (locate - pictures) is named. In India, it is common to refer to a cultureless person as Aurangjeb.

See Also: