Temples of Gwalior
First Online: March 01, 2001
Page Last Updated: May 09, 2017
Within the Fort of Gwalior is a group of temples which form a separate series by themselves in architectural style and chronology. Of the eleven religious structures within the fort's walls, five are temples.
© K. L. Kamat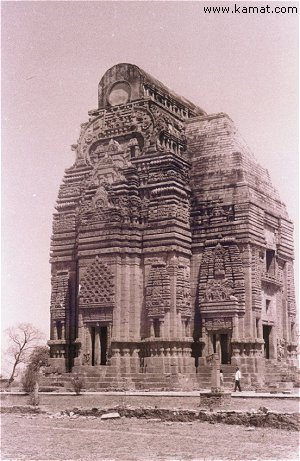 The Teli-ka Mandir

The Teli-ka-Mandir or the oilman's temple is probably the earliest of the temples in the Gwalior Fort. Although commanding in appearance, this temple consists only of the sanctuary with a porch and doorway leading into the inner chamber. There is no mandapa and no pillared hall which is so characteristic of the fully developed temple in this part of the country. This structure is a rare specimen of a Brahmanical sanctuary, for, the shape of its roof bears testimony to its Buddhist heritage. Instead of a spire it has a ridge of the type found on the vaulted roof of a Buddhist chaitya-hall.
© K. L. Kamat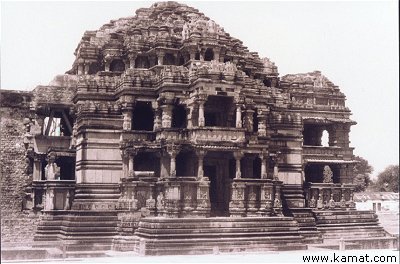 Sas-bahu Temple
There are two other temples of importance, designated as Sas-bahu, or the "mother-in-law" and "daughter-in-law." The larger of these appears to have been completed in 1093 A.D. and has an appearance of imposing solidity. Now only the cruciform porch, which is three stories high, survives. A unique architectural feature of this temple is that the building has been raised several stories high solely with the help of beams and pillars, and no arches have been used for the purpose. The smaller Sas-bahu temple, though more elegant in appearance than the greater Sas-bahu temple, is stylistically only a reduced and simplified copy of the latter.
On the road to the Fort lies a small temple dedicated to Chaturbhuj, the four-armed, a name given to Vishnu. It was built in 875 A.D. and is believed to be the oldest temple in Gwalior. It has a small dome over its pyramidal roof which resembles that of the Teli-ka-Mandir in many respects.
See Also:
Temples of India -- numerous articles on temple architecture and temple art at Kamat's Potpourri
More Pictures of Gwalior at Kamat PictureSearch
/rd/?goto=www.amazon.com/exec/obidos/external-search?tag=kamatspotpourri&keyword=Gwalior