Mysore Traditional Paintings - An Introduction
by K. L. Kamat
First Online: August 26, 2000
Last Updated: November 20, 2017
The Vijayanagar School of Painting (A.D. 1336 to 1665) was very distinct from the earlier styles and has made a great contribution to the Art of India. The pupils of this school specialized in drawing war scenes, folk dances, animal hunting, commercial transactions and everyday life of the common people. The Mysore and Tanjore Traditional Paintings are the off shoots of the Vijayanagar school.
The Mysore kings were ruling the princely state from Srirangapattana and Raja Wodeyar (1578-1617 A.D.) employed several painters from Vijayanagar and thus laid a sound foundation of Mysore Traditional Painting. These painters were also assigned allied work in decoration, preparing banners, doll making, gold work, painting the temple cars, preparing portraits of rulers, deities and saints. The Mysore kings that followed also encouraged this style of painting.
These artists used locally available material for their paintings. The hair of the squirrel were used as brushes by tying them with a silken tread and inserting them in the narrower end of a quill. The board for painting were obtained by pasting a cloth or waste paste to wooden planks. Controlled- burnt tamarind sticks were used as sketching charcoal. The motifs were drawn with a crayon. The sky and river were painted followed by animal and human figures. The gold (gesso) foils are pasted last. The paintings are polished only when they are perfectly dry.
© K. L. Kamat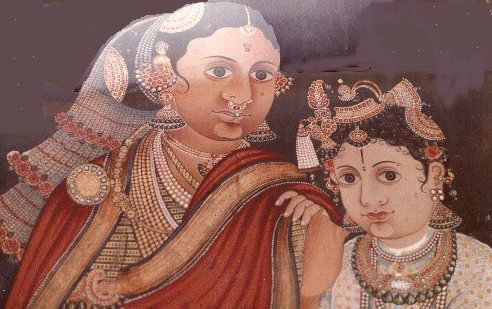 The stories from the Ramayana, the Mahabharata, the Bhagavata Purana and Jain epics are the primary basis of Mysore traditional paintings. Individual deities, epic heroes, court scenes, battle ground are also depicted. Most popular themes are: Rajarajegvari, Shri Rama Pattabhisheka, Kodanada Rama, Dashavatara, Tandaveshvara, Ambegalu Krishna, Laxmi, Sarasvati, Chamundesvari, Visvarupadarsha, and Samudramanthana. Some of well preserved Jesso paintings could be seen in Mysore, Nanjangoodu and Bangalore. Sringeri, Melukote and other pilgrimage centers also have many gesso paintings.
Mummadi Krishnaraja Wodeyar ( Krishnanaraj Wodeyar III, A.D. 1780-1865) was a great connoisseur of the traditional paintings and was instrumental in executing more than a thousand portraits of the royal family and important public men. On the walls of Jagan Mohan Palace, Mysore (Karnataka), the portraits of historical personalities can be seen today. Students of art and history can study their attire, facial expressions in detail. Mumadi Krishnaraja also coaxed the painters to prepare their own portraits. Thus, the painters like Narayanppa and Chinnakrishnappa could be viewed in gesso art. The king brought out a mega volume of 1500 pages, of half imperial size titled Sritatwanidhi. This pictorial digest is divided in to nine sections and contains one thousand paintings. It is a compendium of illustrations of gods, goddesses and mythological figures with instructions to painters (general guide) regarding composition placement and color choice, mood, etc. The ragas, seasons, eco-happenings, animals, and plant world are effectively depicted in these paintings as co-themes or contexts. The tradition was a strong point which has come down through ages in Mysore school of art, and hence the word "traditional" is invariably used as part of the proper name.
The modern European art, Roman model art and art of Raja Ravi Varma diminished demand for Mysore Traditional Painting during 19th and 20th centuries. However, today (year 2000) many young artists are busy with copying old paintings and selling for fabulous prices. They use modern art materials and sell finished paintings anywhere between one to ten thousand Rupees each. However, an authentic painting is extremely difficult to get for that price.

See Also:
List of Pictures