Lord Krishna Goes on a Picnic
by Dr. Jyotsna Kamat
First Online: February 11, 2008
Page Last Updated: May 09, 2017
Contrary to the ascetic and austere life prescribed by Dharmasastras, ancient Indians seem to have enjoyed good food, drinks, music, dance and partying. Harivamsa gives description of an excursion undertaken by Yadavas headed by Lord Krishna and their uninhibited orgies.
The Yadava princes once decided to pay visit to Pindaraka teertha on sea shore near Dvaraka. Men, women and courtesans joined them in good number.
K.L. Kamat/Kamat's Potpourri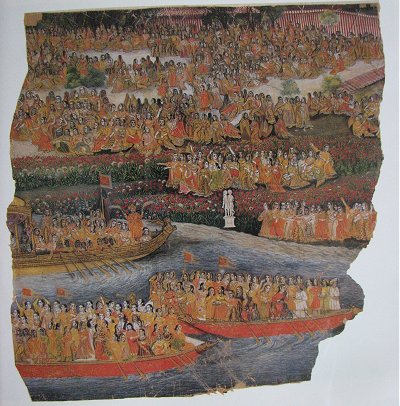 Royal Party on the River

There were water sports, Krishna had his thousand wives and Balarama with Revati, his wife, joined after a couple of strong drinks. Some swam, some floated holding boats and others sang and danced. Large boats took some to deep sea and some rowed the small boats themselves. Others engaged in water sports.
Orgies started; they ate, they drank and wearing Flowers, unguents and fancy clothes, they danced and sang. Pitchers of wines, called maireya, madhvisura and asava were passed on. The distance maintained between the elders and youth was completely forgotten!
Krishna and his friends who had gone to drinking booths and had drinks, with fried Kababs of their choice turned to food which had arrived on the scene.
The revellers finally came out of water, fell voraciously on the food and ate to their heart's content. Meat cooked with sour and hot spices. Sheekh kabab (meat roasted on spits), roasted buffalo over flowing with ghee and spices were the items they relished. There was wild fowl and strips of other meat. Salads of radishes seasoned with lime, salt and pomegranate juice were eaten as side dishes. Sweets made of milk and ghee were served as dessert. Vegetables, soups, curds, hot milk and fruits were also there.
After dinner, the Yadavas witnessed dance and musical performance of courtesans and then returned to Dwaraka.
Editor's Note
The above description of a party by an ancient Indian poet, is quite fascinating -- if not for any other thing, for the consumption of meats and liquors.
It may be recalled that during one such picnic following the Mahabharata war, that the community of the Yadavas killed eachother in a fit of drunken orgy -- bringing to fruition a curse Gandhari is said to have given to Krishna.