The Killing of Tataka
Rama and Lakshman studied military science and other subjects under the famous guru, sage Viswamitra. After completion of their studies, they were returning to Ayodhya. While passing through forest they came across a demon called Tataka who was causing perpetual nuisance to sages in their conducting of religious duties and sacrifices. Viswamitra told Rama to kill Tataka.
kamat.com/Kamat's Potpourri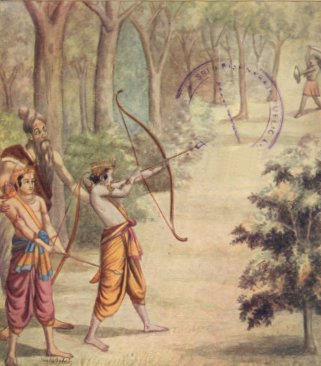 Rama Killing Demon Tataka
Teacher Vishwamitra asks his student Rama to get rid of Takata
Rama hesitated to kill a woman. The guru convinced him that social menace in any form or gender was to be controlled and it was dharma (duty) of a Kshatriya to eradicate evil. With one arrow Rama disposed off Tataka.
Source of Picture: Chitra Ramayana by Ramachandra Madhwa Mahishi, Illustrated by Balasaheb Pandit Pant Pratinidhi, 1916
Commentary: Dr. Jyotsna Kamat