The Burning of Sri Lanka
Rawana's men tied the tail of Hanuman with clothes, poured oil on it and lit it. The monkey with the burning tail then was taken in a procession to humiliate him. Upon release, he jumped from house to house and all wooden structures started catching fire from his tail. Whole island of Lanka started burning in no time.

hanuman, after ensuring that imprisoned Sita was safe, proceeded to sea-shore and extinguished the fire of his tail. He leisurely and gleefully watched the burning of Lanka.
kamat.com/Kamat's Potpourri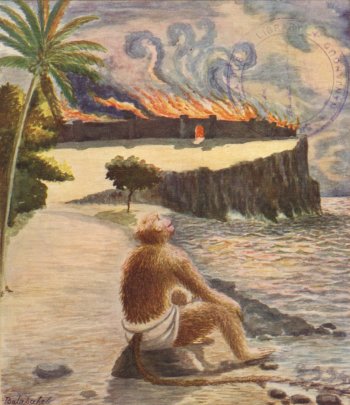 Hanuman Watches Lanka Burn
Painting by Balasaheb Pant Pratinidhi
Hanuman then crossed the sea and joined back his eagerly waiting clan. He reported the matter and all of them heaved sigh of relief, after learning the
whereabouts of Sita. All proceeded to Rishyamooka mountain where Rama was putting up. Hanuman presented the jewel of Sita to Rama. He recognized it at once, and hugged Hanuman.

Sugreeva organized his monkey army and all proceeded to southern sea with Rama and Laxman.

Source of Picture: Chitra Ramayana by Ramachandra Madhwa Mahishi, Illustrated by Balasaheb Pandit Pant Pratinidhi, 1916
Commentary: Dr. Jyotsna Kamat