Story of Shurpanakhi
by Dr. Jyotsna Kamat
First Online: September 04, 2005
Page Last Updated: May 09, 2017
As suggested by sage Agastya, Rama built a hut on the banks of Godavari river and settled with Sita and Laxman. In the vicinity lived demons Khara, Dushana and Shurpanakhi.
kamat.com/Kamat's Potpourri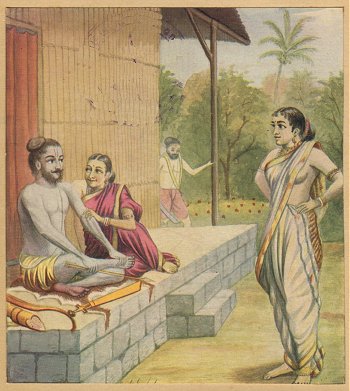 Shurpanakhi Asks for Rama's Love
Painting by Balasaheb Pant Pratinidhi
Shurpanakhi was a cousin of Rawana, king of Sri Lanka. Shurpanakhi got enamored of Rama's bewitching looks and personality. She transformed herself into a young and beautiful woman and came to Rama. Without any inhibitions, she pleaded Rama to marry her as she has completely fallen over him. Seeing and hearing her, Sita started laughing. Enraged, Shurpanakhi lost her temper and new form, and attacked Sita. At Rama's behest, Laxman cut off Shurpanakhi's nose and ears, and made her flee.
K.L. Kamat/Kamat's Potpourri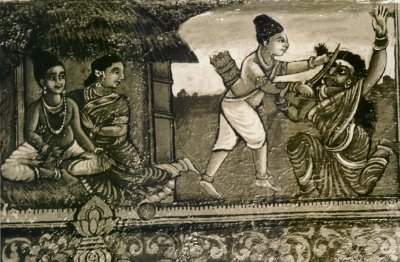 The Humiliation of Shurpanakhi
Lakshman Cuts of the Nose of Rawana's Sister -- Painting from Anjaneya Temple, Mulbagil
In revenge, Rawana then kidnapped Sita and kept her as a hostage, ensuing the great search for Sita and the war of Ramayana.
K.L. Kamat/Kamat's Potpourri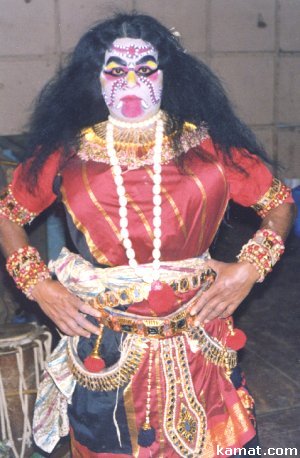 Man Dressed as the Mythological Character of Shurpanakhi