Life in Rural Rajasthan
by Jyostna Kamat
First Online: January 20, 2000
Last Update: May 09, 2017
Water is literally like nectar or amrut (ambrosia) in Rajasthan. People and animals in Rajasthan can manage without water for a considerable period. Housewives manage their chores with a minimum of water. For cleaning vessels, they use a piece of cloth and fine sand, which is available in plenty. Brass and copper vessels, plates, and tumblers acquire a shiny look after a sandy dry-clean! After this they get a final wash with very little water and are ready for use.
© K. L. Kamat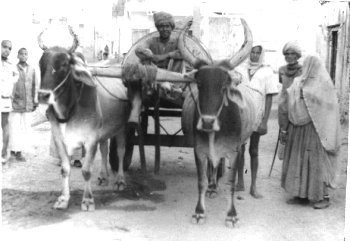 Water being transported in bullock carts, Jobnair
Bikaner (a western district in Rajasthan) got its name because water (ner) was sold (bika) there -- a concept that is very absurd to most Indians, who do not experience such shortages of water. In Jodhpur water has to be delivered through the railway. In Jobnair also, water is sold like any other commodity. During the period from 1966 to '68, when I lived in Jobnair, Bodu, the water-man functioned as the civil water supply agent! With the help of his family members, he drew water from the village well, filled the barrel on a cart drawn by bullocks, and supplied water in tins. (3 gallons to a tin) Each tin of water cost 10 paise at the time.
A village well is the hub of activity in the morning. People who cannot afford to purchase water draw water from the well in earthen pitchers by themselves.
© K. L. Kamat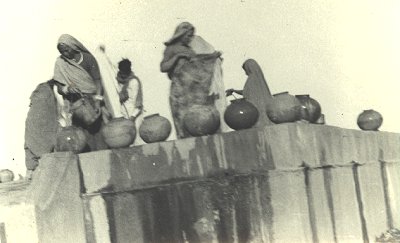 A well is the hub of the village, Rajasthan
Small tanks and wells are guarded by watchmen and once I heard the story of a thirsty wayfarer who stealthily drank water when the watchman was dozing. Later the poor fellow was caught, and was made to pay a fine of 8 paise! A hospitable villager can afford to offer a glass of buttermilk to his guests but cannot offer as much water, which the women-folk carry from a great distance -- a distance which at times may be as large as one or two miles.
The water in earthen pots becomes ice-cold in the simmering heat of summer and becomes uncontaminated, although initially full of sand, as the sand settles. A baby is bathed in a thali or dinner plate with a piece of cloth for a sponge; one or two tumblers of water are enough for this. Half a bucket of water is ample for an adult to clean up.
Picture courtesy: Corel Professional Photos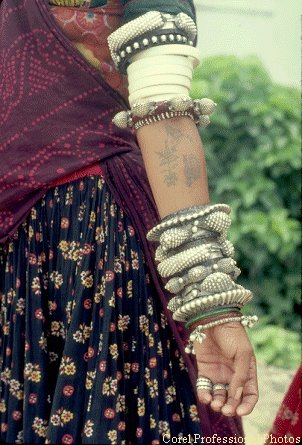 Pleated skirt and jewelry of a Rajasthani woman
(Note the tattoo on her arm also)
Women usually cover their faces with an odhni or dupatta and wear thick, full-length skirts with innumerable pleats and a blouse with colorful designs. "Tie and dye" is a home industry and the colorful head-wear (pugdi or rumal ) of men and the gaudy dresses of women provide a wonderful contrast to the bleak environs of the state, which is bereft of trees and vegetation.
The heavy jewelry, made mainly of silver, tinkles and jingles when the women grind grain, pound spices or draw water. Villagers are friendly and helpful, but wary of strangers. Men and women never mix or talk in public except for business. Amusements for the people are in plenty but are enjoyed in segregated groups. Weddings, the births of children, and festivals are great opportunities to find women dressed in their finery, visiting village temples with pitchers on their heads. For the slightest reason they break into song. On the occasion of a baby's arrival, a betrothal, or a wedding, women gather in groups and sing in a chorus for hours, with the accompaniment of the dholak (small drum).
© K. L. Kamat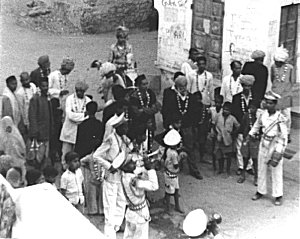 A wedding procession

Child marriages are quite common and mass marriages take place on auspicious occasions. The brides and grooms are often toddlers, and ride in a wedding procession on horseback or camelback under the watchful gaze of guardians.

Ravanahatta

, a stringed instrument, is played with a bow and perhaps is a forerunner of the western violin. Wandering musicians roam villages singing songs about the adventures of ancient Rajput heroes. These wandering minstrels are known as Bhät.

Camels are integral parts of the many households in Rajasthan, and are used for transportation, travel and amusement. Camel load-lifting competitions and camel races take place on festive occasions. Marriage processions are typically led on camelback, with the groom and bride huddled together. Each house has a huge gate for camel-entry and only a very small door for human creatures!

Sheep grazing is a common sight, and sometimes girls take up this job. Wool is a key industry; so are dyeing and hand-painting. Bandhani prints are famous examples of this.