King of the Jungle
Asiatic Lions
by K. L, Kamat
First Online: August 11, 2003
Page Last Updated: May 09, 2017
© K. L. Kamat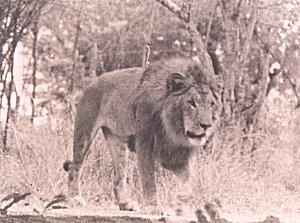 The king of the jungle

Not too long ago the lions, Felis leo were abundant in Europe, Africa, Asia and Asia Minor, but now they could only be seen in the restrict forest of Africa, South West Asia and India. The Asiatic lions were in common sight in Gujarat, Uttar Pradesh and Bihar states of Northern India till the beginning of this century. Unfortunately they were victims of indiscriminate hunting and poaching. Today they are found in the Gir forest of Junagad district in Gujarat state. Even these would not have survived onslaught of human cruelty but for the British Viceroy, Lord George Nathaniel Curzon (1899-1905 A.D.) who put a total ban on killing the lions. As a result, the lion population doubled in just seven years 1904-1911.

K.L. Kamat/Kamat's Potpourri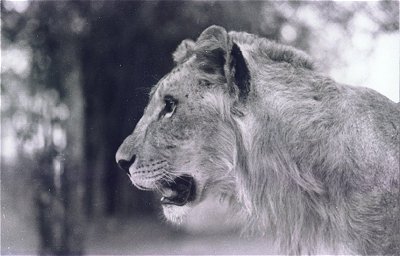 Lion of Bannerghatta National Park

In 1965, the government of India declared 1412 square miles of the Gir forest as Lions' sanctuary and added another 1882 sq. miles of surrounding forest as protected area. This is a tropical wet evergreen forest with the original and natural conditions. Vegetation is very dense and diverse. The mountain ranges, hills, streams, lakes, rivers, and fast growing trees shelter innumerable birds and animals. In this most natural habitat about two hundred Asiatic lions roam, roar and propagate.
The Asiatic lions are yellow to brown in color with short hair and the tail is tipped by a dark tuft. The male has a black mane. It measures nine to ten feet in length and weighs 400 to 500 pounds. The lions are known for their poise and courage. They live in groups but hunt all alone. The head of the family kills its prey by attacking boldly and drags it to the family. Together they share the feast. The bison, buffaloes, deer, and rabbits are preferred preys. But when starved they eat carrion. Usually only old or weak lions attack man. A lioness gives birth to three to six cubs at a time and takes intense care for three to four months.
The lions are too precious animals to keep all in one place. Therefore, one lion and two lionesses were relocated to Chandraprabha sanctuary near Varanasi, Uttar Pradesh, in 1957. They increased their population to eleven but later all died. This might be due to inbreeding.
In 1974, a National Park was established at Bannareghatta, 22 kms from Bangalore (Karanataka state) on the Anekal road. Out of 104,27 sq. kms of dense forest 15 sq. Kms has been demarcated as "Lion Safari" while seven lions and seven lionesses are introduced. Everyday three or four of them are let out free to roam about, but around their respective cages in the night. The visitors riding in a van provided by the Forest Department could observe them at a close angle.
© K. L. Kamat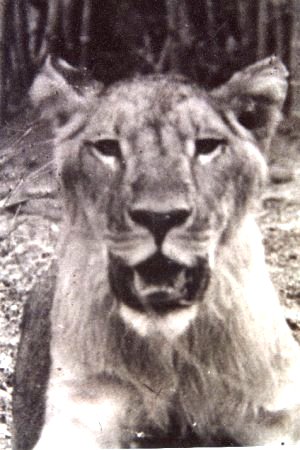 A lion roars – Gir forest

Another attempt is being made to establish a home for lions at the Kuno Sanctuary in Northwestern Madhya Pradesh. The prey base being supplemented extensively with large ungulates is required to sustain increasing lion population. It has been planned to introduce large number of Nilgai, deer, and sambar from surplus population sites of the State and kept in a large enclosure to breed and multiply. If everything goes well by 2001, the lions will roar again amidst the Vindhya mountains in Central India.