Kamat Goes to a Puppet Show
by K. L. Kamat
Date: August 14, 1999
Last Updated: May 09, 2017
The Bellary district of Karnataka State has produced numerous leather puppeteer troupes who have entertained the village folks for centuries. They used to carry their own baggage to give their performances. Bharamappa of the Yadramman village was one of the leading light in this art. He had more than three hundred fifty leather puppets which were about three hundred years old. He was invited to Germany in 1986 to participate in an International Leather Puppeteers exhibition and he gave numerous performances in that country. But back home the villagers' taste had changed and they were attracted by movies and television shows. Hence many families have taken to agriculture and some have been forced to work as farm laborers. They were even forced to sell their puppets to the wealthy western collectors.
Some of the younger artists have taken upon themselves to modernize the leather puppetry. Shri Ramanajaya troupe of Bellary has taken a lead in this direction. Instead of using century-old puppets depicting characters from Ramayana, Mahabharata, stories from the puranas and the Devi scriptures, they have opted to project personalities like Mahatma Gandhi. The modern facilities gave way replacing old and outdated equipments. Mini-truck for transportation, easy to erect steel frames for a pedal electric arch lights replaced the caster oil lamp, loud speakers helped to reduce the strain on vocal chords. Modern musical instruments like harmonium and mrudangum replaced traditional paverri (paa-wa-ri) and mukha-veena. The audience were provided with chairs instead of torn mats.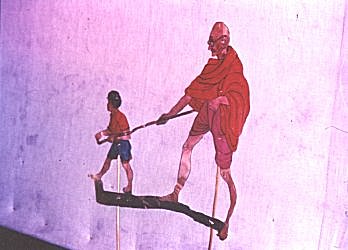 The puppeteer animated Gandhi through sticks and threads.
A performance commenced with a lengthy introduction by the master of the ceremony. He described vividly the background which compelled him to undertake modernization of leather puppetry. Then he went on to explain his background and introduced his teammates. For the day's performance he had selected "Great Gandhi" so that the youngsters could be inspired by the ideals and achievements of the Father of the Nation. The show commenced with a villager asking a city bread educated young man if he knew who is Mahatma Gandhi. The man makes gestures as if he cares hoots for that old bandicoot. Thus to educated the youngster, the story of Gandhi begins. A brief account of his childhood and education in England is shown. His stay in South Africa has been given great importance as it is there that Gandhiji's patriotism got kindled. During a rail journey to Pretoria, a white railway guard humiliated Gandhi by ordering to vacated from the first class compartment which was meant for the White citizens only. This episode reminded Gandhi how shabbily colored people in Africa and finally Harijans are treated in India. He returned to India and lead the movement for Indian freedom from the British. His "Non-cooperation movements", "Quit India" are all highlighted. The partition of India into two nations lead to a great misery to masses.
The mastery and the artistry of the puppeteer was unbelievable. Entire puppeteers' family was working behind the screen. The promoter of the team gave a running commentary on each event. He also sung songs in Hindi and Bengali which were favorite with Gandhi. Boys with puppets were so active that by their movements they could create an impression that people are moving and the train is running. The background music given by the men and women was so effective that audience had a feeling that they are witnessing a movie.

See Also: