The Luxury Transport of Palanquins
by Dr. Jyotsna Kamat
First Online: April 1, 2002
Page Last Updated: October 17, 2017
The palanquins were used by ancient Indians for traveling both short and long distances. In a time where automobiles weren't there, the palanquins provided an efficient mode of transportation for the women, the rich, and across rough terrain. Dr. Jyotsna Kamat explores the palanquins depicted in period Indian art.
Song of the Palanquin Bearers
Lightly, O lightly we bear her along,
She sways like a flower in the wind of our song;
She skims like a bird on the foam of a stream.
She floats like a laugh from the lips of a dream.
Gaily, O gaily, we glide and we sing,
We bear her along like a pearl on a string.
Softly, O softly, we bear her along,
She hangs like a star in the dew of our song.
She springs like a beam on the brow of the tide,
She falls like a tear from the eye of a bride.
Lightly, O lightly, we glide and we sing,
We bear her along like a pearl on a string.
-- Poem by Sarojini Naidu
In its simplest form, a palanquin consisted of central space for seating one or two passengers with scaffolding on either side for bearers to carry it. Depending on the need, social status and the journey, palanquins were designed. Amenities of reading, writing, eating and sleeping were provided. Two to four or six people used to carry it and were known as "Boyees." For longer distance, another team of bearers accompanied, giving relief of the tired. Depending on the mood of the traveler readers singer, dancers or storytellers accompanied. Transportation was hence extremely personalized and enjoyable. For such a comfortable journey no fuel, foreign exchange and good roads were needed. There was no room for pollution and no fear of accidents.
© K. L. Kamat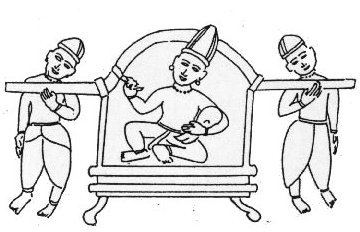 Indian palanquins were a great attraction to foreign travelers, some of whom have left interesting narratives. Domingo Paes (1522 A.D.), Ceasar Fredrick (1567-68), Peter Mundy (1632), Edward Terry (1652-60), Captain Basil Hall (1822) are some of the travelers who have left their accounts of palanquin travel. They were unanimous in stating that the boyees were an honest and hardworking class. The boyees used to get good remuneration with which they used to buy land and lived comfortable and did not mind rough weather and terrain. They used to sing or hum and others joined to beat the monotony of trekking. During Vijayanagar times women also worked as Palanquin-bearers inside palace premises.
---
| | |
| --- | --- |
| Hindu Nobleman with Servants | |
| | A Royal Traveling by Palanquin |
| Maithili Folk Painting Depicting a Palanquin | |
| | Women Carrying Palanquin |
| Royal Palanquin | |
---
These colorful palanquins could be seen in some of the museums. Few Mathas or temples have preserved them which were earlier used by the pontiffs (Mathadheeshas) Some palanquins could be identified in hero stones. A contemporary palanquin is carved on the outer wall of a Bhatkal temple and another carrying a nobleman exists in Vidyashankar temple of Sringeri. A Swamiji in procession and being carried in palanquin is depicted on the ceiling of Virupaksha temple in Hampi. Some traditional Mysore paintings also show the chiefs of mathas, being taken in palanquin. In a Krishnaparijata (folk play) manuscript, women-bearers of a palanquin are depicted.

See Also:
Extreme Vehicles -- Most Hindu Gods have their own vehicles that they use to go about their tasks and responsibilities. We bring you this fascinating exhibition of pictures from Indian mythologies.