Biography of Annie Besant
by Jyotsna Kamat
First Online: June 02, 2005
Page Last Updated: January 11, 2018
In the field of education, social reforms and political struggle, Dr. Annie Besant was the foremost woman leader, India had seen in pre-Independence era. Born in London of Irish Parentage in 1847, she earned fame early, due to her eloquence, social work and radical views. She was hailed as Europe's best orator by George Bernard Shaw. She married Frank Besant, a pastor of the Anglican church. But the marriage did not last. They separated after two children.
© K. L. Kamat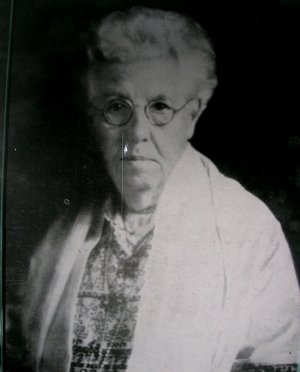 Dr. Annie Besant (1847-1933)
Mrs. Besant fought for equal wages, rights of women, and birth control (for women's health) much to the embarrassment of British government. Fabian Socialism was taking roots in England and she associated herself actively. Later she came under the influence of Theosophical Society which was against discrimination of race, color, gender and preached Universal brotherhood. To serve humanity at large was its supreme goal. It is as a member of Theosophical Society of India (later she became President as well) that she arrived in India in 1893.
In India to Serve Humanity
She toured the entire country of India. It gave her first hand information about India and middle-class Indians who were affected more by British rule and its system of education. Masses at large adhered to olden ways. Even educated class was not aware of their its glorious past and liberal religion. She started studying Indian scriptures, religious texts and was drawn by the catholicity of BhagavadGita and the Upanishads. She got acquainted with Hindu manners and customs. She literally delivered thousands of lectures to create cultural awareness among the youth. She took to wearing sari, mixed with Indians. She invited British to work in institutions she founded who liked and respected India. She believed that a nation's prosperity depends upon the character of the people and concentrated on character-building.
She wanted Indo-British 'common wealth'. The word 'Commonwealth' was coined by her. She earnestly wanted friendliness and modesty among those who ruled, and dignity and self-respect among the ruled. She certainly succeeded in making young Indians become aware of their cultural greatness. Through a network of schools and colleges she tried to instill patriotism and contemporary spirit as well. Central Hindu college at Banaras was due to her endless efforts. She mobilized funds by undertaking lecture tours in Europe and America, drew huge crowds and attracted intellectuals. Later as Banaras Hindu University, it molded the minds of millions.
She introduced inter-dining in hostels (a revolutionary step in early decades of last century), did not allow married students to college (this discouraged early marriage of boys), and allowed free transactions between British Indian scholars. The syllabus was a happy blend of Western and Indian philosophy, literature, history and religious thought.
She was greatly admired and respected for her learning, dignity, grace and eloquence. She attended sabhas (assemblies) of traditional Sanskrit scholars as well. In one such big gathering, Mahamahopadhyaya Pandit Gangadhar Shastri was present. He was acknowledged as greatest Sanskrit scholar of his time, and honored even by British Government by the title of CIE (Companionship of the Indian Empire). He was impressed greatly by Mrs. Besant's deep knowledge and oratory and spontaneously hailed her as 'Sarvashukla Saraswati'-- "here comes the Goddess of Learning!" Mrs. Beasant always wore white sari. She was the personified learning goddess (Saraswati) in that learned assembly.
Active in Indian Politics
She was a great organizer. By 1914 she plunged into Indian politics and in no time became forceful advocate for Indian freedom. She became the President of Indian National Congress in 1917, a greatest honor bestowed in those days by an elected body. Earlier Presidents went away to their private life after the session. But Dr. Besant set a tradition by working for the Congress throughout the year touring the country and organizing camps.
She started a newspaper, "New India", criticized British rule and was jailed for sedition. She came to be associated with rationalistic (radical) group of congress workers which did not always appreciate Gandhi's views. Mrs. Besant and Tilak worked together till his death.
Fasts, penance and self-mortification were not Mrs. Besant's methods. Leading an industrious life with disciplined and punctual habits could be equally helpful, she argued. She led such a life to the end.
Besant in Belgaum
The rift between Gandhi and Besant was inevitable. Both were masterful personalities. Slowly she withdrew from congress. First and only time Gandhiji presided over congress session in 1924, was held in Belgaum ( in Karnataka). Mrs. Besant undertook a long train journey to attend the session. The train arrived late and Gandhiji was in the rostrum. He stood up as Mrs. Besant entered the huge conference pendal at the furthest end, to bid her welcome and the large audience followed and stood up. She walked to the dais and sat with ex-presidents. She passed on, a small chit to the President. Gandhiji stopped all proceedings and invited Mrs. Besant to speak and requested the audience to give her the most respectful listening. Soon after her lecture, she left for the Railway Station at that ripe old age. Such was her sincerity, and devotion to Indian cause. She continued with educational and social reforms activities, after withdrawing from politics.
Her involvement in religious reform and belief in the idea of world-preceptor and 'Star of the East' make a different study altogether. She believed that she would be born a Hindu in her next birth. She wanted her cremation at Banaras on the banks of Ganga river. But she died at Adyar (Madras). In those days, air journey was yet a dream and trains were slow. Her last wish could be fulfilled only by taking her ashes to Banaras and immersed in Ganga carried with reverence by a huge procession in 1933. She was eighty-six.

See Also:
Congress Archive -- Rare pictures and artifacts from the archives of Indian National Congress. A pictorial story of India's freedom struggle.