Pictures and Stories from a Visit to Korea (Summer of 2004)
Anyong Haseyo -- Greetings from the Land of "Morning Calm".
My wife and I visited Korea this summer and these are some stories and pictures from our trip.
by Vikas Kamat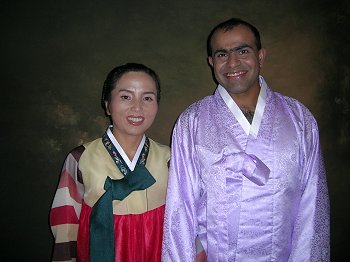 In Korean Traditional Attire (Hanbok)
Morning Calm and Indians

Land of Morning Calm

Long time ago an Indian philosopher (Tagore) went to Korea and described it as "The Land of Morning Calm". It has since become Korea's tagline.
I went to Korea in year 2004 and am describing it as a "Developed Nation". I have a firm belief that my characterization will also endure.

Surprise Korea
I have always wanted to visit Korea more as a student of nation-building (Korea emerged from ravages of foreign occupation and Korean War to become an industrial powerhouse) than as a son-in-law, and had eagerly looked forward to the trip.
Korea was not at all what I had anticipated (well, the part about population density and fermenting beans is true) and I had expected a nation and a society somewhere in-between India and in USA in terms of economic progress, technology, and traditional living. I had expected narrow roads and pollution. I had expected dog-meat, cheap merchandise, and an aging population. Wrong, wrong, wrong.

Korean Landscapes
What I found was a remarkably green nation, a clean nation, and a spacious, multi-storied nation.
As a very beauty conscious nation (beauty is a big industry within Korea and I have heard that 20% of all Korean women have had cosmetic surgeries), I had expected goddesses and women with large busts. Wrong, wrong.


View of Seoul from the Seoul Tower

At the Huge Seoul Flower Market -- I have no idea what they do with so many flowers..

The most expensive items in a Korean home are not jewelry or electronics, but traditional art and plants. The Bonsai below for example is about 150 years old and costs thousands of dollars. They even have what I call "Bonsai hospitals". My mother-in-law had admitted two "patients" there who are recovering for the last one year!



A Sample of the Korean Architecture
I found that Koreans have fondly and respectfully have preserved their heritage via food, traditional arts, and language. Above: Kim's parent's drawing room and below: Earthen pots used to ferment Kimchi (pickled cabbage that is an identity of Korea) and beans.


"Mountains and Apartments" is a two word description of Seoul




Kim's Family



Koreans love the side-dishes known as Bhanchan.
Imagine doing the dishes after dinner -- so many vessels to wash!



Since I am one of the guys who actually did tape-over my wedding video, I had to pose for a wedding photograph to satisfy my mother-in-law. I told Kim that having married her three times (we married in Alabama and again in India), even if two of our marriages fail, we would be still alright


In Korean Royal Decor
Pointing to my chest, they said "Korea's hairiest Prince" (Korean men have no chest hair. I know. See the bathroom story below)

Public Bathhouses
Public bathhouses are popular in Korea. It is a place you can relax in different kinds of saunas (herbal dips, hot and super-hot saunas, super-cold chambers, aqua-massages), workout, or play computer games. If you know how the body reacts to temperature, you could lose up to five pounds in a day by alternating between hot and cold treatments. Except that you have to be naked in front of strangers, it is quite a fun place.
What I didn't understand was, why is the guy who gives you a massage naked? (the barber wasn't naked).

Campaign and Sign-board Nation
Kim had told me that Korea was a "Campaign Nation". She was right -- there were campaigns everywhere. Some examples -- "Turn off your air-conditioning before leaving on vacation", "Separate your trash into following categories: Plastic, Glass, Paper, Edibles eatable by Pigs, and Other categories" and "Be sure not to include toothpicks with Piggy food" and "People with Etiquette Walk on the Left side of the Street"

Signboards and Campaigns are Everywhere

Democracy at Grassroots
I was very impressed with what I could call micro-democracy in Korea. Every flat community has an association whose meetings are mandatory (there is a hefty penalty for not attending). During the meeting there is an agenda, discussion, voting, and immediate action is taken on the decisions. My in-laws went to two when we were there, during which they decided not to endorse the incumbent Mayor because he could not influence the Senate to spend enough money to build a facility of interest to the residents. Another item of discussion was to add a noise-silencer to the central vacuum cleaner that would have cost each of the resident $600.
My Mother in Law: "Wait a minute. Anyone here does not accept that USA is not an advanced nation? If not, let me tell you that when I visited my daughter, her vacuum made a big noise and disturbed the neighbors, but they were all civil and tolerated it. If Americans can tolerate noise, so can we." She said, the man who proposed the silencer was silenced and he withdrew his proposal.
I just thought that this institution of solving problems via neighborhood debates was wonderful.

Tennis on Mountaintop
We played Tennis on a red clay court situated on top of a mountain (in Korea everything is either top of a mountain or in the valley, as the nation is very mountainous). I'd never played on red clay and I found it extremely slow. The game itself was great in the backdrop of a ocean of sky-scrapers, and very foreign etiquettes -- examples: the eye-contact before serving is replaced by a bow to the opponent before every serve; they eat dried squid for refreshments. I also discovered that there are only two balls in a can; "Why do you need three?" --I was asked.

Tennis in Korea
I had not carried my racquet with me and borrowed from my opponents. I broke two strings while playing (just a coincidence, I am not a power player), and earned the title "power player". After tennis we were treated to a four-nation seafood buffet (featuring seafood delicacies from China, Korea, Japan and Italy) that included shark fins, octopus, fish pizza and a hundred other items. At the restaurant, there was a dispute on who was the host (meaning who will pay for it) and several people fought to pay -- this part was just like India.

Jewelry for Cell Phone
I wonder how the Koreans lived without mobile phones. Known as hand-phones, everybody has them. They are also very advanced and even have a slot for jewelry. Known as Hand-phone Accessory, these are topics of great fascination within Korea. We brought some of them, only to discover that it is not compatible with our cell phones in USA.
In just the cell-phone hardware alone, Koreans have made a ten to twenty billion dollar investment (multiply population of Korea with the cost of a high end cell phone).

Sight Seeing
I love Korea because it is my wife's country. It was wonderful to visit the places where she grew up, the water ponds she fell into, and the spots she picnicked, and meet her friends (Koreans put friends on par with family members).

The Revival Palace

We took a day trip to Muchangpo and found the mountains and greenery very inspiring

Ka-bob is not what you think
Nowhere in Korea I saw dog-meat sold or consumed. On the other hand I saw a lot of dogs as pets and dog grooming salons and pet-stores ("Pets Mart", some are called -- obviously a twist of PetSmart).
Ka-bob in Korean means dog-food Not "Dog as Food"! ( Kae=Dog, Bab=rice or food)

No Dogs. Just Eels. The sign says "100% Korean Eels"

The Korean society has moved from dog-eaters into dog-lovers. Above: Kim's sister's puppy, Dungi

Add Korea to Make G-9
I think Korea is a highly developed nation using best practices in society, government, and engineering. I think it should be labeled as one rather than the stupid sounding "Developing Nation".

The Concrete Jungle. That's why I called Korea a Multi-storied Country.

During the two weeks I did not encounter a single unpleasant incident -- on the contrary, everyone was very friendly and eager to talk to me to practice their English. When I took the underground metro without buying adequate ticket, (and could not exit), the official was most courteous and obliged my special request with a smile. The museums were either free, or inexpensive to enter. This is different from India where Indians pay one fee and Kim has to pay ten times that. (On the way back on the plane, I read that Bhutan, a very underdeveloped nation, charges $200 per day Foreigner's fee for every foreigner.) I opine that the way a foreigner is treated is a sure sign of a country's development.

Best of Korea
The Public Bath-houses -- I think that's the most fun one can have for two dollars. There is also something about discussing philosophy or watching sports in the company of other naked men.
Vegetarian Food -- So many vegetables and so many preparations. My favorite is a summer noodle (Mul Nyung Myun), and spiced bean-sprouts.
Pot-Bing-Su -- Non-fat ice cream -- I can't call it cream because it has no cream. It is a wonderful summer delicacy made with shaved ice, beans and fruit. I want to introduce it in India where it gets really hot.
The mountains
The man-made concrete jungle -- Till I saw Seoul, I couldn't understand how so many people could live spaciously in so little space.
The spirit of Korean people -- Everywhere I saw, I saw hard-working, confident and patriotic citizens. I also admire how the Koreans have blended tradition with technology.
Worst of Korea
Nagging Korean women -- Koreans' intense desire to have male children has resulted in shortage of women, so women have become overly nagging, and overly dominating. Bad news for Korean men.
Shopping -- We honestly couldn't afford to buy anything in the malls (called Pekkajam, they are like a hybrid of American malls and Department Stores). This is after converting the Korean currency into the Dollar (one US Dollar is about 1130 Won, so a cup of coffee is like 6000 bucks!)
Fear of Wangta (ostracization) or Fear of Being Different -- This psychological phenomenon is killing Korea. If your cousin has it, you have to have it. If your neighbor does it, you must do it. When I point it out, I am told, "yes, but our rate of suicides due to peer-pressure is much lower than Japan's"!!

See Also: