© K. L. Kamat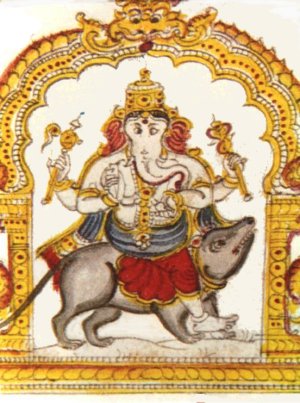 Extreme Rodeo!
Lord Ganesh rides his favorite mouse to earth to enjoy the the offerings of devotees - Mysore traditional painting. This month, Ganesh Chaturthi (the birthday of Ganesh) will be celebrated across India.
See Also:
Hinduism Potpourri -- Hindu mythology, point of views, pictures of deities, sages and stories.

Extreme Vehicles -- Most Hindu Gods have their own vehicles that they use to go about their tasks and responsibilities. We bring you this fascinating exhibition of pictures from Indian mythologies.


September 06, 1999