The Art of Making Photo Albums
First Online: May 05, 2007
Page Last Updated: November 01, 2016

Who hasn't seen a wedding photo album?
They all look alike. Same rituals, same festive atmosphere, and people going through the proceedings, and pictures of people you don't know.

But when Kamat made a wedding album, he created a new medium, telling an interesting story with humorous captions, beautiful photographs, and a well compiled presentation. He dwelled into his fine literary and visual senses to make photographic albums. Photo-albums made by Kamat are the most treasured works of art in my household.

-- Prof. Keertinath Kurtakoti

Introduction
This section is created to document the art of creating photo albums. K.L. Kamat (1934-2002) was an expert in making wedding albums and the albums have been enjoyed and remembered by the viewers even after many decades. What made these albums memorable was the stories Kamat wove around the pictures with editing, clever captions, and pointing out the subtle details a casual viewer would miss.
The following are some pictures and scans from the actual albums Kamat made.
K.L. Kamat/Kamat's Potpourri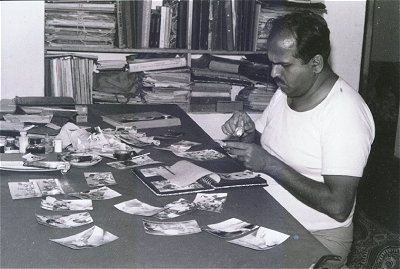 Kamat Making a Photo Album

Photo Album Making
---
---
See Also:
Vintage Advertisements -- Showcase of old and successful advertisements from India. Includes advertisements for clothing, telephones, vehicles, and condiments.