Maharashtrian Rangolis

by Prachi Kulkarni
First Online: December 16, 2004
Page Last Updated: January 03, 2018
Prachi Kulkarni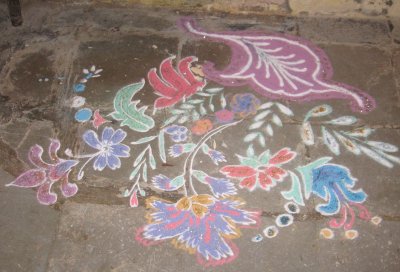 Colorful Floral Designs in Rangoli Art
Maharashtrians (people of state of Maharashtra) are very fond of Rangoli designs and the art form is practiced by women in both rural and urban areas alike. Here are two designs from my collection. The first design was drawn on the occasion of Diwali festival. The second one was drawn on the occasion of 'Godbharai'. It is customary to draw Balkrishna (baby Krishna) on 'Godbharai' and 'Namkaran' (baby shower and naming ceremonies).
Prachi Kulkarni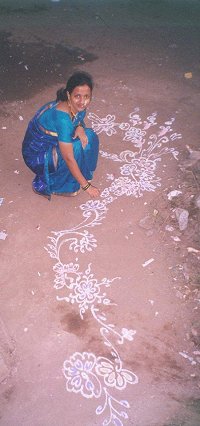 A Diwali Rangoli

Prachi Kulkarni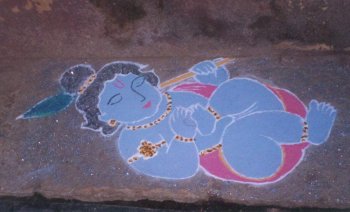 Rangoli of Baby Krishna
Chaitrangan is the name of the traditional rangoli which is drawn during Chaitra month - First month of Hindu calendar (usually end of March and starting of April) from Chaitra shudhdha tritiya to Akshay tritiya. It contains all the Shubhchinha (sacred signs) discussed often in Maharashtrian culture.Other varieties include Sanskarbharati, foodgrain rangoli, and threshold rangolis.
Prachi Kulkarni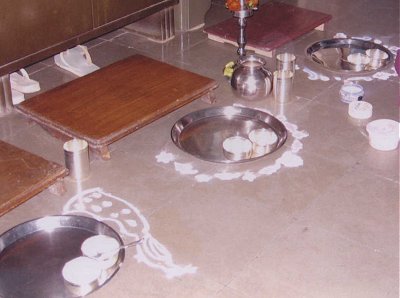 Pangat Rangoli of Maharashtra

See Also: