My Childhood in Ankola
by Seema Kamat
First Online: May 01, 2007
Page Last Updated: January 03, 2018
Ankola is a town located in North-Karnataka. It reminds me of my childhood days spent during summer holidays at my paternal grandparent's place. We would be excited to pack our bags to spend our summer holidays (two months) there. At that time my family lived in the city of Hubli, and would take us about three hours to reach Ankola by bus.
My grandfather's house in Ankola was more than 100 years old, and had twenty-five rooms.
Every person in Ankola knew my great grandpa, Sheshagiri Kamat. If one had to reach he/she had to ask for Shesh Kamat's (Sheshagiri Kamat) house in Tenkankeri. The house is about a mile from Ankola bus-stand.
As you cross the denpo (gate) there is a huge seat where all the family members can sit for an evening chat. Here we would play antakshari, eat fruits (mangoes and jackfruits), and lie down for a while after having dinner. The house is surrounded by coconut trees, champe (red and white Jasmine) flowers, guava, jackfruit, betel nut, betel leaves, jambla trees, pineapple plants, Haldi paan, palapanas, drumstick, bhiranda (cocum), bimbla, tehplas, mogra, etc.
The head of the house was my great grandfather Sheshagiri Kamat. For thirty-five years he served as the President of The King Edward Education Society, formerly known as Edward High School and now known as Jai Hind High School. He had three brothers and shared the house of twenty-five rooms with two stair cases -- one is called white stair case (dhave mali) as it is painted in white, and the other black (kali mali) as it is painted in black, a big rajangaan - this place is used for drying varieties of papad (made of rice, urad, red chilli and green chilli), vadi (made of white pumpkin, sabudana, and rice), ambya saat (a sweet made from ripe mangoes), panas saat (a sweet made from jack-fruit) along with their families.
Pontiff Indirakanth Teerth Swamiji along with his inmates stayed in this house for a couple of days!!!
K.L. Kamat/Kamat's Potpourri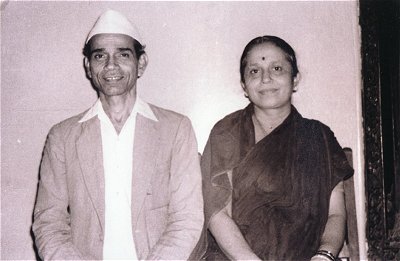 Radhakrishna Kamat and Wife
Town of Ankola, 1967
Sheshagiri Kamat had three sons and a daughter. My grandpa, Dr. Radhakrishna Kamat was the second son and my father, Gopalkrishna is the eldest of five siblings and the first male child (grandson). Since my father was the first grandson, his grandpa decked the newborn baby with gold ornaments from head to toe! Right from neck chains, bangles with rings for all ten fingers and a waist chain. There was also a maid to take care of him!
Joint Family Fun
As you enter the house there are four large pillars with wooden carvings! Here, we would play a game called Khambya aata (pillargame)! Oh boy! we were more than thirty children who would come from various towns/cities. My father's sister stays in Mumbai and her children would come to Ankola during summer holidays, we would come from Hubli as my father was working in the Syndicate Bank. Also, my father's brother's and his younger sister's family! Further my grandpa's elder son's daughters with their family and my great grandpa's brother's grand children! The rest of the games which we played were logori, dabba I spy, Jungle Mangal, antakshari, badminton, cricket, carrom board and gilli danda. We also would conduct dramas and wore our grandma's sarees! We would make a hut of coconut leaves sewed together. We climbed mango trees and plucked mangoes to make pachdis - cut the mango into tiny pieces, add salt, chili powder and coconut oil and if necessary add mustard seasoning to it.
We had a couple of maids with names like Bechu, Buddu, -- they are the tribal people called Kulmbis (It was fun watching the Kulmbis eating food - they did not sit on the ground with legs folded, but would rather squat) who would help to remove coconuts from the trees, mangoes, jackfruit, Ramphal, Sitaphal, betel nuts, betel leaves, palapanas, guavas, and purple jambla. These maids would help in pounding rice, chili powder and varieties of herbs since my grandpa was an ayurvedic doctor. We also have a machine to extract the oil from the coconuts. There are also five huge grinding stones to grind coconut masalas, pound the chili powder and the papad dough, and grind the batter for making mouth- watering vadis!
Bechu was the person who would give a nice body massage to my father and his brother and would in turn get five rupees!
There is a virgin beach that takes about one and a half mile from my grandpa's house. We would pack some eatables and leave at around 3.30 p.m so that we could be back by 5.45 in the evening. There is a hilltop where we would climb and collect sea- shells and would take it back with us to Hubli! As there were number of stray dogs my grandpa would carry a big stick. We had to cross some paddy fields and a small river to reach this beach! Everything was exciting for us!!!
Loss of Gold and Change in Fortunes
Once upon a time Sheshagiri Kamat was a very wealthy man. He owned a couple of buildings in Karwar, Tadadi and 2 big ships in Mumbai. These 2 ships sank and we lost all the money. All the women in the house had 100 kgs of gold. My grandma had a big gold waist band (Bhangra patto) and all the women wore diamond studs. Once two men came to their house and showed that they could double the gold. All the men of the household believed and the women had to part with their gold ornaments. These men said that the door should be closed and asked for a stove and a vessel. They were con men, and they melted all the gold and ran away with it!
The shock and humiliation of losing all the family's wealth was a big blow to my family, and eventually there was nothing much left to even eat a square day meal. All the men of the household started looking for jobs! My grandpa got engaged himself in making Vatasamhari tail, no wound and hair oil since he had studied Ayurveda. Now my uncle, my father's brother makes and sells in his free time.
During the good days, all the eatables were made of ghee (varieties of laddu) and from coconut oil (chaklis, kodubaale, shankarpal, panasache balka, kanangache balkas). There were two cooks who cooked varieties of food and sweets. My great grandpa would eat in a silver- plate and drink in a silver glass/bowl. There were 100's of cattle. There are large vessels/pots to store pickles and salt.
There are a couple of long armed chairs to rest during their leisure time. My grandpa would sleep on this big long armed chair and we as kids were surprised to see him sleeping. So I happen to ask him and he said that as a kid he had fallen from the cot and so was sleeping on the chair. I was very fond of this chair and would sleep whenever grandpa was not around;). It was a cozy and grandpa had taken the trouble to place the pillow and the bed firmly to the chair!
After we lost all the riches, the house was divided into four division. Each family had a separate bathroom, kitchen and a couple of bedrooms.
Our family deity is Lord Ganapati and during Ganesha Chaturthi 100's of people from all over would come to have lunch. This festival is celebrated even till today!
It was only during the nights that we would get scared to go from one room to the other and one of the cousins who stayed there permanently would help us go to our bed room.
It would be quiet humid during summer. To beat the heat my grandma would shift her kitchen outside the house and this place was called 'mantav'. It is made of bamboo and coconut leaves woven together and one could feel the coolness. The mantav had a living room, kitchen and a bedroom! Sometimes it would rain during the month of April and May and I remember we would try to collect the vessels, bed, bed covers as much as we could in our hands to a dry place!
As mentioned earlier, my grandpa would make vatasamhari and "no wound" taila. I would help him in filling the bottles with the oil with my tender hands, sticking the labels and also packing the bottles! Also would help my grandma in the kitchen, by cutting the vegetables, grinding the masala, rolling chapati and removing dosa on the tava, laying the wooden planks (manai) for breakfast, lunch, and dinner. My grandma was from a Bhat family and did not eat garlic and onions! However she would make mouth watering fish dishes! - fish and crab curry, fish sukka, fry and kalva sukka! She would get up at 5 in the morning and would milk the cows! Her kitchen was the place where she would cook delicious dishes, recite god's mantras and wait for her husband to have food! She would eat after all of us had eaten and would be the last person to go to bed in the night! I haven't seen as beautiful and graceful lady like her! When she was old her hair was golden and yet had the charm of a young beautiful girl! She had all the patience to prepare the tasty dishes and would serve us with her ever beautiful smile!
I would like to say that we would eat five times in a day. Breakfast at 7 to 7.30 in the morning. Boiled rice (brown rice) with vaali bhaji curry with prawns added, papad and pickle at 10 a.m and quite often jackfruit, tender coconut at 11! Lunch at 12.30 or 1 in the noon. Snacks at 3 to 3.30 in the evening and dinner at 8.30 in the night! Before having dinner we all would sing bhajans with the taal and later close our eyes and recite god's name. There are two huge dining hall where 25-30 people can be accommodated. To eat boiled rice one of the hall has oval shaped holes so that it prevents the water ( ganji) of the rice from moving.
We have a big pooja room where a 'Saligram' is kept. The poojari comes everyday to perform the pooja and offers rice as nevadam to the God! This rice has to be cooked with utmost care (no one is supposed to touch the poojari while he is performing the pooja and making rice) as it is being offered to the God! The poojari would have a tough time when he had to bring the rice vessel from the kitchen to the God's room since we children would be running all around the house! ;)
We had only one movie theatre that was two kms away from our house. We would often go to the noon show that would start at 3 p.m. We had to walk to reach the theatre in the hot sun! We didn't feel the humidity as we were excited to watch the movie! My grandparents would give us each 5 rupees!!! We would go with our grandpa to the town to eat ice-creams and one scoop of ice-cream cost only a Rupee !
Once in every year we have a festival called 'Bhandi Habba'. All the elders would give each of us 10 Rupees and we would be so thrilled to buy all the toys - girgetli, car, aero-plane, balloons, dolls etc. We would wait for the other kid's balloon being bursted;) and would clap loudly after being done so.
We all children would almost be in tears when are summer holidays would come to an end! During that time all the elders of the household i.e., my grandparents, my grandpa's elder and younger brother would give us money. Each would give 10 Rs. and those days ten rupees was like 100 rupees! However, we had to part this money with our mom :(
How I wish I could go back to my childhood days and enjoy again!!!

See Also: