Suresh Neotia's Art Collection
First Online: September 23, 2006
Page Last Updated: January 03, 2018
Suresh Neoria, scion of one of India's well known industrial families, fell in love with Indian Art almost 40 years ago, and developed a passion and insight for collecting rare and important specimens from the Indian Subcontinent. With the growth of the family business the art collection also increased.
Since 1997 a major part of the collection is being housed in the Museum of Jnana-Pravaha, Centre for Cultural Studies & Research set up by Suresh Neotia and his sister-in-law, Bimla Poddar, in Varanasi. (Late) Professor R.C. Sharma, formerly Director General / Vice Chancellor of the National Museum / Institute in New Delhi, was the Director of Jnana-Pravaha since its inception, till his demise in 2006.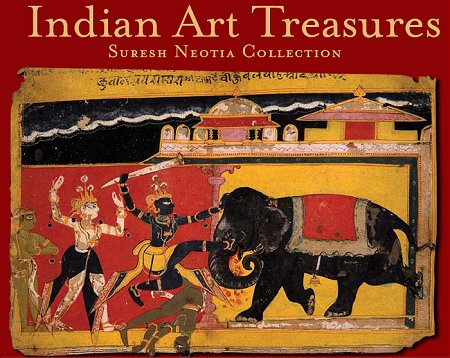 The collection includes miniature paintings representing almost all major and sub-styles, like Pala, Western Indian, Provincial Mughal, Mewar, Bundi, Kota, Sirohi, Kishangarh, Jodhpur, Ajmer, Jaipur, Bikaner, Guler, Kangra, Mandi, Raghogarh, Malwa, Mysore and Company. The specimens from Bikaner form the largest number and are varied in nature. The Tangkhas from Tibet and Nepal, and a unique sketchbook in the Nepal-Tibet style are remarkable items. The stone sculptures and terra-cottas range from 3rd century B.C.E. to 19th century C.E. and belong to different parts of India. The coin collection comprises select specimens from pre-Mauryan (Punch Marked) to the British period. There are some rare gold pieces from the Kushana, Gupta and Mughal periods. Similarly textile pieces in the Persian style, Champa Rumal and some beautiful brocade and zari work celebrate the world-renowned handwork of the traditional Indian weaver. An outstanding acquisition is a copper plate with the seal of Emperor Harsha issued in his 23rd regnal year, corresponding to C.E.629. This records the complete genealogy of the Vardhana dynasty and also bears the signature of Harsha in his beautiful handwriting. There are also some fine items of decorative art in gold, silver, brass, copper, repousse etc.
"Indian Art Treasurers" presents more than 170 spectacular catalogue items, from the Suresh Neotia collection, with over 200 specially commissioned photographs by India's finest museum photographer, Bharath Ramamrutham. The contributing essays are from 26 well known art historians around the world. These include Amy Heller, Amy Poster, Andrew Topsfield, B.N.Goswamy, Gautam Vajracharya, John Huntington, Milo Beach, Pramod Chandra, Rosemary Crill, R.C.Sharma and Susan Huntington among others.

Indian Art Treasures -- Suresh Neotia Collection, 2006
Pubisher: Mosaic Books, B-17, Lajpat Nagar Part 2,New Delhi 110024 India
Details: 264 pages, 245 x 340mm, full colour, hard bound, ISBN 81-9027763-4
Price: Rs.3500/- (within India), US$ 99 (outside India)
See Also:
The Arts of India -- The arts of India exemplify how life can indeed revolve around arts.