Computing, Libraries, Tennis, India & other interests of Vikas Kamat
Memories of Babanna

Vasudev Ramachandra Kamat (or Babanna, as we called him) was a man of good character, generous heart, and a courageous spirit. A lawyer by education, Babanna, did not marry for many years, instead engaged in nation building activities such as volunteering and organization of co-operatives. Then he married a girl from Haldipur, whom we called Vaini, who was much younger than he was. They had six children, all approximately of my age, but Babanna had to cremate two daughters who died very early, and then his wife. The tragedy of losing his darling daughter Anita (in 1979) is still fresh in my memory.

It is said that Babanna was a rambunctious Cricketer in his time, wielding a bat made with the midriff of a coconut leaf, although I have never seen him play.

Once Babanna decided to dig a well in in his yard, but got oil instead! The rumor got around the neighboring villages that oil had been struck in Honavar and everybody was so excited. It was really a silt that smelled like kerosene, that probably required some refining, and Babanna closed the well to stop the circus that ensued.
© Vikas Kamat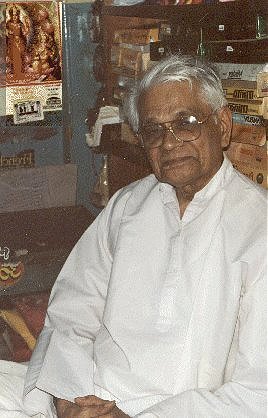 Picture of V.R. Kamat, Honavar
The famous Yakshagana folk art troupe of a neighboring village Keremane was once about to shutdown. It was Babanna who helped the team financially and provided moral support, to rejuvenate the art form -- this I did not know -- till I read about it in the autobiography of Mr. Hegde who has said that the help from V.R. Kamat came at the most critical juncture and made all the difference.
V.R. Kamat, along with buddies Dr. V.R. Balakur and K.M. Kamat, constituted the "Think Tank" of Honavar town and people consulted them on all matters of domestic dispute, governance, and difficult moral dilemmas. In my childhood, I was proud to introduce myself as a relative of V.R. Kamat.
On the day of Rakshabandhan festival in 1976, a bunch of us had gathered in the Rama Mandir temple. There was political emergency in India and gathering of crowds larger than 10 in number was illegal. Then police came to spread us apart -- they said it was really an "anti-government gathering" just being held at the temple in the pretext of a festival. It could have been, because many leaders of RSS were there and we had raised a substantial fund that we never had been able to raise before, but it was all fuzzy -- bordering between nationalism, Hinduism, and anti-government. Anyway the police said we have to break up the meeting and go home or else. I remember V.R.Kamat thundering from the back of the room. "This is an annual event held at this temple. If you were local people you'd know. You can arrest us, but in which town are you going to spend the night tonight?" The policemen, all of them posted in my town temporarily with their families really mellowed and said that they were only following orders to break up meetings and mean no harm to townspeople. "Then remove your footwear, pay respects at the temple, and partake our temple food" --Babanna ordered them, much to everybody's amusement.
Babanna was quite a character. He would write checks to suppliers without having transferring adequate money in the bank, and the bank was expected to make a courtesy phone call to him before bouncing the check. He would convince manufacturers to make "Kamat" brand umbrellas and underwear to capitalize on our family name. He would give generous credit to customers at the time of weddings, and then hire a off-duty policeman to go and collect the dues if not paid by the time the newlyweds had children.
He served as the chief patron (moktesar) of a 16th century Venkataramana temple, as a president of the New English School board, and on the board of Urban Co-operative bank. He established many endowments and scholarships in local institutions in memory of his family members. He attended to the logistical needs of two sisters who were untimely widowed.
He lived a rich life, full of experiences.