by Ganesh V. Burde


Previously: Introduction
Chapter I. The Yoga of Arjuna's Despair
(Arjunavishadayoga)
The Gita begins at the battlefield of Kurukshetra, the modern Panipat in North India, as the two great armies of Bharat (India) face each other to decide who is mightier. This ancient war is like the battles of knights of Europe riding horses for duels; the Indian equestrian warriors rode in war chariots, led by able drivers. Arjuna's chariot is driven by Krishna, who guides, discourses, and advises him. Arjuna requests Krishna to lead him to the battlefront so that he may see for the last time the relatives, friends, teachers, and elders arrayed against him. He realizes that the people he about to fight are men just like him, some even worthy of his worship. He finds friends, relatives, cousins, and teachers amongst his enemy ranks. Love and respect for the elders touches his heart and the throws drown his bow and shield in despair.
K.K. Hebbar/Kamat's Potpourri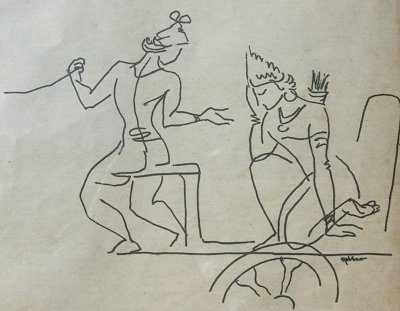 Arjuna's Dejection
Sketch by K.K. Hebbar
Chapter II. The Yoga of Knowledge
(Sankhyayoga)
"All work undertaken should be preceded by full knowledge of the work undertaken." -- Here Krishna smilingly advises Arjuna not to give up fighting; his enemies will consider him a coward. Being a warrior, he should fight the enemies. It is his duty, Krishna preaches Arjuna. Man is mortal. In death, his soul is immortal. The warrior throws away the body like old clothes. After death, the soul will take a new body.
Chapter III. The Yoga of Action
(Karmayoga)
This is the most important chapter in the whole of Gita, advocating disciplined action for public good, which is named as Lokasangraha. Albert Schweitzer was delighted to find in this chapter, the very motive for public good which led him to serve lepers in Africa. Lokamanya Tilak, in pursuance of his restless energy has commended this work after writing treatise in prison. Krishna advises to cooperate with the gods of nature by sacrifices, which he later interprets liberally. This, he says leads to conservation. He says creatures depend on food and food depends on rain, rains depend on Indra, the Lord of the heavens, who is to be satisfied by sacrifice.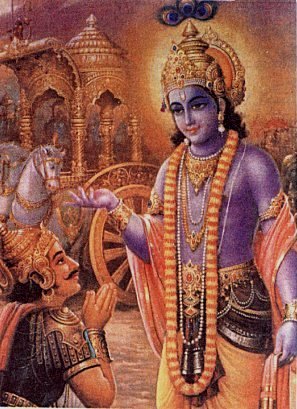 Krishna Preaching Action
See Also: How I wrote 'Gita-Rahasya' -- Lokamanya Bal Gangadhar Tilak writes that "Gita does not preach renunciation". He says Gita preaches action, and asks everyone to study Gita for its philosophical beauty.
Chapter IV. The Yoga of Knowledge, Action, and Renunciation
(Jnanakarmasanyasayoga)
Here Lord Krishna lends some knowledge about himself. He was born many a times to right wrongs and maintain the balance in the world. He would naturally continue doing so. When, where and how he would do so is not told. Hindus describe the great saints the incarnations of Godhood, mostly after their demise who have left the world a better place than before. But his Godhood sticks to the memory of the people, only much later. This is very much like the President confirming Bhaarat Ratna (India's highest civilian honor) on deceased personages. The Tirthankars, Gautama Buddha, Chaitanya, Ramakrishna Paramahamsa, and Saibaba are still considered incarnations of God by Indians following Indian faiths (see related topic on the Holy Men of India). Krishna tries to define work; it is difficult, he admits. A person seemingly idle might be meditating about a complex problem; he is busy with his own work much like inventors and research scholars. Only the work should be unselfish, desireless of the fruits. It will be real Sanyasa or renunciation. He defines sacrifice as different kind of work. He concludes that "All work is divine."
See also: Who is God?, Renunciation and Relinquishment