Inside Kamat's Diaries
Pages of Life of Krishananand Kamat
First Online: May 08, 2002
Page Last Updated: January 03, 2018
© K. L. Kamat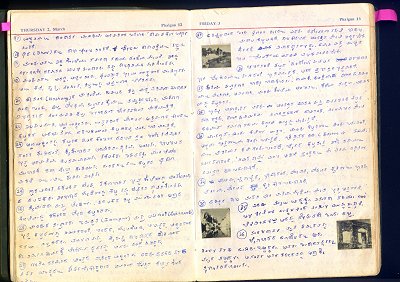 Foreword
Diaries or journals people keep are very personal documents of one's life, and are not items that are shared. Upon my father's death, when I suggested that we open his diaries, even my mother refused to participate since it would go against her principles to read her husband's diaries. But in year 2000, when I was with my father Krishnanand Kamat, he had confided in me the family's savings and his plans for retirement. At the time, we got into talking about his intellectual property and diaries, and I told him that I didn't care for his material wealth and he could give it away to any charity or institution that he desired. But I had asked that he give his diaries to me upon his death, for, I knew, the diaries contained fascinating information.
I wasn't wrong at all.
The diaries, in addition to soul baring, contain absolutely stunning details of life in twentieth century India. There are hand-drawn maps of towns, layout of ancient temple complexes, elaborate listings of museum pieces, drafts of important letters. One can even study how the cost of goods has increased over the decades by studying his expense listings.
The following is a sampling of some of the pages of Kamat's diaries. The readers must remember that Kamat was a common man, not a professor, not a Government official, not supported or funded by institution or grant., and he maintained the diaries only as a scrapbook of experiences and ideas. It shows us his immense interest in life, his love of India, his meticulous way of working, and especially, his resourcefulness. When a map of a village was not available, he created one! Some pages are hand illustrated in fountain pen when a camera was not available, and some yet have been annotated with actual photographs that he contact-printed. He has documented the names and addresses of people, so he could send them photographs or greetings later that year.
It is my joy and honor to share with you my greatest inheritance -- my father's diaries.
-Vikas Kamat
Table of Contents

See Also: