Education in Karnataka through the ages
by Jyotsna Kamat
Education Among Muslims
The kingdoms of the Bahamanis (1348-1527 C.E.) and the Adilshahis (1489-1686 C.E.) in the north of Karnataka and the interregnum of Hyder Ali and Tippu Sultan(1761-1799 C.E.) in Mysore were the main Islamic kingdoms in Karnataka. In the southern part of the state they may be remembered for the boost they provided to Islamic learning, arts, crafts, and rise of the Urdu language and literature. None of these rulers displayed an inclination towards traditional methods of recording events, such as palm books and stone inscriptions, but they had court historians who recorded important events of the reigns of their respective patrons. In spite of a certain degree of bias and exaggeration, books by these historians provide some valuable information. Travelers' accounts, Kaifiats and Bakhairs provide additional glimpses into the educational system prevalent among Muslims.
It is known that Prophet Mohammad lacked formal education. He was a visionary and had no need for literate training, but had all the respect for learning and scholarship. He declared that extensive knowledge (through reading) is the only medium for earthly and heavenly happiness. "Respecting scholars amounted to respecting oneself," was his belief. He went a step further to pronounce that "a scholar's ink (pen) is superior to a martyr's blood" which emphasized his regard for scholars. The faithful received the message. With the political conquest came the spread of Islam and Islamic learning. When they arrived in India, Muslim conquerors energetically attended to the propagation of Prophet Muhammad's teaching. In Iran and other Arab countries, the mosque was a center of culture and learning and the same system was adopted in India1. Masjids (mosques) big and small appeared in the newly conquered territories. Makhtābs or elementary schools were attached to them, where, in addition to prayer, recitation from the Holy Koran, the Arabic language and arithmetic were taught.
Recitations from the Koran became obligatory on festive occasions, celebrations and at community gatherings. Knowledge of Arabic was compulsory for administrators, which stood second in importance only to the reading and understanding of the Koran. Religious literature flowered in this period. Political conquests and the spread of religion went hand-in-hand.
Slowly, the learning of Persian, which became the court language under the Mughals, was introduced in makhtābs . The masjids were endowed with land and cash by the ruling class, which fact allowed deserving students to take up higher studies in madrassās (centers of higher learning).
The same pattern, which existed in north India, was followed in the South. Under the Bahamani rule, Islamic education received new fillip. Every village in the Deccan with a Muslim population had a masjid and invariably a makhtāb. Mohallās (neighborhoods) in towns and cities had bigger masjids , wherein madrassās additionally came into existence. It became essential to train youngsters as scribes, accountants and readers for the ever-growing administrations. Along with the Koran, hādits (traditional Islamic axioms) and their interpretation were taught, as were mathematics (including geometry), logic, history and the Unani system of medicine. Only those students who had completed religious courses and other studies in makhtābs received admission into madrassās.
Calligraphy was given prominence by the Muslim rulers of Karnataka, over the centuries. The paper had come into existence, and penmanship, whether original or a copy, got priority. Theology, rhetoric, and astronomy were preferred subjects. Archery, fencing, horse-riding and chaugan (polo) were practiced among the aristocracy. Military training was compulsory for princes.
Learned mullāhs and moulvis ran madrassās and well-known makhtābs. Parents escorted students to school (see picture no. 91) where pious and selfless teachers took their jobs seriously, and assumed proper care of their charges (see picture no. 93).
© K. L. Kamat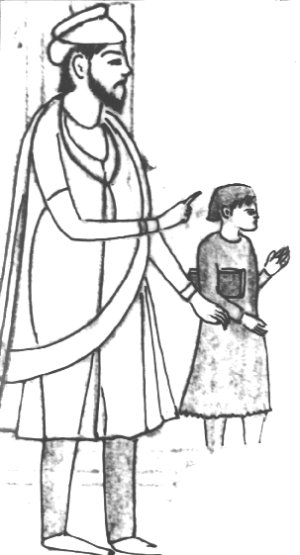 Picture 91: A Muslim Father Taking Son to Makhtab
Iinitiation started very early for the child, in fact at the exact age of four years, four months and four days. The bismillāh ritual was undertaken, wherein the child was dressed in new clothes, and a feast ensued, to which family members and relatives were invited. The village mullāh initiated the boy by making him recite the relevant prayer of bismillāh, and the mullāh received presents for his services. From the next day onwards, the child attended the nearby makhtāb, where in addition to Persian letters, he learnt songs and moral stories. The book of Bustan was the most popular text, along with the Gulistan. Arabic, Persian grammar and other languages were also taught. Correspondence, writing applications and administrative terminology were taught in these Islamic schools.
© K. L. Kamat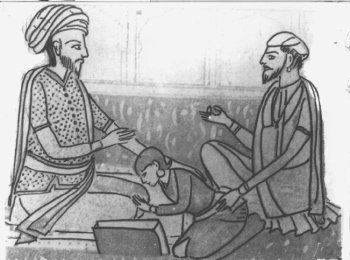 Picture 93: Moulvi Accepting a Student
Life in residential Islamic schools started early in the morning with ablutions and prayer, followed by the lessons. Hand-written books were few and usually shared by the youngsters (see picture no. 94). Practical jokes and mischief were common among students and punishment was quite severe for errant boys (see picture no. 97). Self-study was important, while memorizing and recitation formed part of a lesson (see picture no. 96).
© K. L. Kamat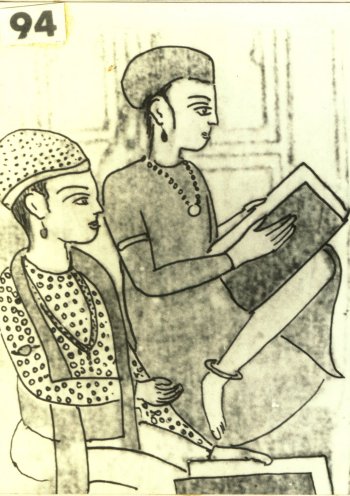 Picture 94: Pupils Sharing a Textbook
Education among Muslims in coastal Karnataka seems to have developed without gender bias even in 14th century. Ibn Batuta, the Arab traveler, who visited the town of Honavar in 1336 C.E. as a guest of the local ruler Jamaluddin, saw and recorded a rare sight: there were twenty-three schools for boys and thirteen schools for girls, the likes of which he had not seen anywhere. All the women in these schools knew the Koran by heart. In all likelihood they studied in makhtābs, where learning of the Koran received a priority. Ibn Batuta's observation is important for more than one reason: he had traveled in almost all Muslim countries of the period, in addition to various parts of Southeast Asia, and found the rare presence of schools for girls and women fit to be recorded in his accounts. He further mentions that the girls were very beautiful and wore nose rings. This obviously meant that they did not put on the veil or burquāah. In contemporary north India, due to the Muslim invasion, even Hindu society was forced to keep women in strict control, covered with the purdāh in public places. In the south however, and especially in Karnataka, perhaps due to past tradition, Muslim girls, possibly Navayats and new converts to Islam, did not use the veil and attended makhtābs just like boys. Although a solitary situation, the availability of schools for girls was an extraordinary case in the middles ages, not only for India, but for the entire contemporary Muslim world.
K.L. Kamat/Kamat's Potpourri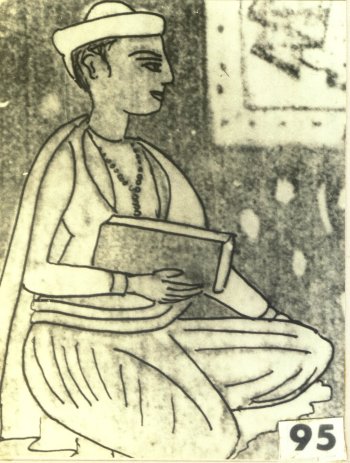 A Student holding a Book


Hassan Gangu Bahamani (1347-1358 C.E.), founder of the Bahamani kingdom, came from a humble background and had no education. But he paid full attention to educating his sons. His son Muhammad knew several languages, including Turkish, Arabic and Persian, and wrote poetry. But it was Muhammad II (C.E. 1378-1397), the third king, who became famous as a patron of learning. He established schools (makhtābs and madrassās) in Gulburga, Bidar, Kandahar, Elichpur, Doulatabad and Dabhol. He arranged for free boarding and lodging for poor students. A military school was also established for the children of nobles.
Firozshah Bahmani (1398-1422 C.E.) was an accomplished scholar and fond of learning. He sent ships from the port of Goa to Persia, Turkistan (Turkey), and Egypt carrying special invitations to scholars of Islamic institutions. They were given important posts and facilities in order to pursue their studies further. Firozshah was drawn to philosophy and natural sciences. Every fourth day of the week he copied sixteen pages of the Koran, before engaging in public affairs. He knew Arabic, Turkish, French, Bengali, Gujarati, Telugu and Marathi languages2. It is told that he had women in his zenāā (the women's quarters within the royal palace) from all these regions and used to converse with each in her native tongue!
Discussions on botany, geometry and logic were arranged, in which Firozshah actively participated. He spent his leisure hours in the company of dervishes, poets and reciters of classics. He planned to build an observatory at Daulatabad, under the guidance of the famous astrophysicist Guilani, but the sudden death of the latter put an end to the remarkable aspiration. Firozshah's attempt indicates that many experts in astronomy, mathematics and engineering were in his court and inspired him3. He built a big library at Ahmadnagar (in present day Maharashtra state), which was in good condition even in the 17th century, when Qasim Ferishta, the court historian of the Adilshahis visited it.
The arrival of Khwaja Sadruddin Muhammad Hussain Gesu Daraj, popularly known as Hazrat Banda Nawaz (1321-1422 C.E.), a famous Sufi saint to Gulbuga gave a good boost to the Dakhani (or "Deccani") language and literature. Later known as Dakhani Urdu, this was taking shape as an independent and important spoken language. It was a mixture of north Indian Hindavi or Hindi, Persian, Gujarati and Marathi, languages spoken by soldiers who came from different regions, and by wandering mendicants and Sufi fakirs. Although Banda Nawaz knew Persian well and wrote in that language, he adopted Dakhani as his medium of instruction and preaching. His later works are in this language, which by then had adopted the Persian script. His works are considered the earliest in the Dakhani language of the Muslims for the entire Deccan Plateau. Persian continued to be the court language of the Bahmanis, but through Dakhani, Banda Nawaj reached the masses that were at once drawn to Sufi teachings. Banda Nawaz was the foremost disciple of the famous Chiraghi, who, along with Nizamuddin Aulia, was the most respected Sufi scholar of his times. At his insistence, Banda Nawaz came south in 1369 C.E. Sufi teachings were directed at the abolition of social inequalities and discrimination. All men were equal; the Sufi saints treated the rich and the poor, Hindus and Muslims, freemen and slaves all alike. Obtaining freedom for slaves was considered a noble act and the upliftment of the poor and the downtrodden received priority in their interpretation of Islam. Hazrat Banda Nawaz became endeared to the masses quite quickly. Due to these teachings, which spanned over three-quarters of a century, Islam took root in the Deccan and especially in the Gulbarga, and Bidar regions4. Banda Nawaz also had a good number of non-Muslim followers. His dargāh and urs at Gulburga are a place of pilgrimage for people of all sects even today.
Mahmud Gawan arrived in Bidar in 1453 C.E. and gave a good boost to the promotion of education and learning. Although a merchant by vocation, he was well versed in Islamic lore, Persian language and mathematics. He was also known for his profound scholarship in the Middle East before coming to India. Due to his perseverance, honesty, simplicity and learning, he earned the goodwill of the Bahamani rulers and held important posts under three successive kings. Mahmud III (1462-82 C.E.) as a young boy studied under his tutorship, and Gawan became the grand vazir or Prime Minister when Mahmud became the king, and looked after the administration for nearly thirty years
Gawan was rich due to his adventures in international trade, but spent his entire earnings on the promotion of education. In 1472 C.E. he established a madrassā in Bidar, then the capital of the Bahmanis. The madrassā consisted of an imposing three-story building with 100 feet tall minarets in four corners. There were thirty-six rooms for students and six suites for the teaching staff5. The building also had large lecture halls, a prayer hall and a matchless library of three thousand volumes. Gawan himself had a personal library of more than a thousand books. He spent all his leisure time in the library.
The madrassā building had a large courtyard with nearly a thousand cubicles, where students and learned men came from all parts of the country and the East to stay. Boarding and lodging were free. There were 118 students on a permanent basis and countless itinerant scholars.
Mahmud Gawan was familiar with renowned colleges at Samarkhand and Khorasan and his own college or madrassā was modeled after west Asian architecture6.
Gawan attempted to get renowned scholars from Persia and other West-Asian countries to teach at and head the now famous college. But most of them declined the offer due to age or the arduous and long journey involved. Sheikh Ibrahim Multani became head of the madrassā, and finally chief kāzi of the kingdom; he is credited with the spread of Islamic learning in the state.
Gawan's growing clout in the court was a sour issue with Dakhani (local) Muslim leaders. They considered him a foreigner and his influence over the royalty raised a lot of contention. There were administrative reforms introduced by Gawan, which also generated much resentment among Dakhani governors. The courtiers decided to kill him and hatched a careful plot. They obtained Gawan's seal and affixed it on a blank piece of paper and forged a letter inviting the king of Orissa to attack the Bahamani Kingdom. The letter was duly delivered to the king, who was often inebriated. Without verifying the facts, the king sent for Gawan, and asked about the punishment to be meted out for treason. "Death," was the prompt reply from Gawan. The Sultan (king) showed him the letter. Although Gawan admitted that the seal was his, he pleaded complete innocence about the contents. Unfortunately the Sultan was not in his senses and ordered Gawan's beheading on the spot. Gawan warned the king to use discretion in such serious allegations. Those were his last words. Thus came the end of the legendary scholar statesman.
When Gawan's house was raided for the alleged wealth he had accumulated, all that could be found was a mat, cooking vessels, the Holy Koran and 144 letters he wrote. Although the madrassā suffered a heavy loss due to his sudden death, the building continued to stay in good condition for nearly two centuries. After the capture of Bidar by Aurangjeb in the late 17th century, the buildings were used for storing a powder magazine and as barracks for a body of cavalry. Unfortunately lightning struck the powder magazine and there was a huge explosion, destroying the greater part of the edifice and causing immense damage. Most of the rooms and the three minarets were destroyed7. Only one minaret and a few cubicles have survived till date (see picture no. 98).
K.L. Kamat/Kamat's Potpourri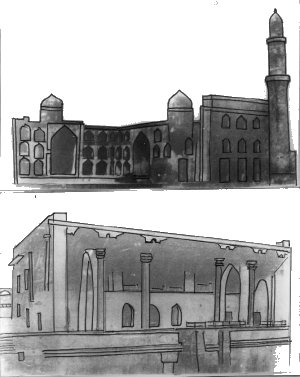 The Asri Mahal Library


The Adilshahi Sultans of Bijapur (1489-1686 C.E.) continued the Bahamani tradition of patronage to education by constructing masjids and makhtābs. Among this dynasty of rulers, Yusuf Adilshah the founder (1499-1510 C.E.) was educated at Sava (in Persia) and had a taste for poetry and music. He could play two to three instruments and composed spontaneous songs. Many master musicians and learned men were invited by him from Persia, Turkistan and Rome. Ismail Adil Shah (1510-1534 C.E.) was also a patron of scholars and poets. He knew several languages, and was adept in drawing, painting and making arrows. Ali Adil Shah I (1535-1558 C.E.) had a philosophical bent of mind and invited Hindu, Muslim and Christian saints for religious discussions and called himself "Adilshah Sufi." He had a great liking for books and collected a huge number on a variety of subjects, and carried boxes of books with him during many journeys. The royal library lodged in Asari Mahal at Bijapur had its beginning during his rule.
Music, the Dakhani language, painting and crafts received a lot of encouragement during the Adilshahi reign in Karnataka. Calligraphy grew in all its grace and elegance. The Persian script renders itself beautifully to an artist's imagination and skill. An artist or a sensitive calligraphist can give flowing touches, flowery flourishes or long and short joints to letters. Islamic calligraphy developed into seven styles at a later date. The kufi style was employed for religious sayings or quotations from the Koran, the nasq for simple forms in everyday correspondence and the tulup was used for epitaphs of heroes and martyrs. Nastaliq and jughra were the other two styles, even more in vogue. The tughra was used to avoid the evil eye (an Indian belief analogous to the western scarecrow) and were to be found in forts and fortresses of the Deccan region.
As the use of paper became increasingly popular, calligraphists grew in demand. Khasnavis was an expert in calligraphy. Hindus and Muslims were equally adept in handwriting. Books on poetry, biography and history were illustrated with the choicest handwriting, with beautiful borders of gold, red and blue flowers.
Ibrahim Adilshah II (1580-1627 C.E.) is remembered as the greatest king, for trying to bring in cultural harmony through music and other fine arts. His book, "Kitab-E-Navras" (book of nine flavours) in the Dakhani language is a collection of 59 poems and seventeen couplets. According to his court poet Zuhuri, Ibrahim Adilshah wrote the book to introduce the theory of nine juices (which occupies the most important place in Indian aesthetics) to people who had only a Persian background. The book starts with a prayer to Sarasvati, the goddess of learning. He composed verses on Ganapati, the god of learning, as well. He proudly claimed that his father was the divine Ganapati, and his mother the holy Sarasvati. For him, the tānpurā (a musical instrument) personified learning, and it was said that "Ibrahim the Tanpurawala became learned due to the grace of God, by living in the city of learning i.e., Vidyanagari." Vidyanagari was the earlier name of Bijapur.
Ibrahim II publicly declared that all he wanted was vidyā , or learning, music, and gurusevā (service of the guru.) He was a devotee of Hazrat Banda Nawaz, the Sufi saint. He composed a prayer to his teacher, requesting him to bestow vidyā and a charitable disposition.
To provide a constructive shape to his interpretation of the rasas, he founded the new township of Navraspur. He had a temple built for Goddess Saraswati within the precincts of the palace, which still stands and is known as "Narasimha Sarasvati Mandir." The record of encouragement he provided to music and musicians is amazing, considering that mainstream Islam does not recognize music as a path of devotion. Ibrahim himself had mastered music and wanted his subjects to cultivate a love for it. His creation of the Eid-e-Navras and the Lashkar-e-Navras is unique. They are described below.
On every Thursday, Eid-e-Navras (festival of music) was held in Bijapur. Singers, players of various musical instruments, and dancers from different parts of the kingdom assembled for the festival. The assembly of elite musicians was known as Lashkar-e-Navras. Men and women of noble birth aspired to participate in this Eid. Well-known musicians and dancers thought it a unique privilege to come to Bijapur and perform before the king, as he himself was a master of the subject.
Musicians were divided into three categories: huzuris or great masters who had direct access to the king, darbaris were versatile musicians, but could not match the genius of the Huzuris. In the third category, shaharis had a sound musical background and were diligent learners. New rāgas and compositions came into existence with the king in the assembly, and were passed on to the darbaris and shahari. All musicians received a salary, land and residential quarters in accordance with their status.
It is difficult to assess the long-standing effect of Ibrahim's encouragement to popularize music during his time, but he was a great patron of learning as a whole. Bijapur attracted poets, musicians, painters and Sufi philosophers. The Ibrahim Roja, a royal sepulcher he built for himself, is an architectural wonder today, although Navraspur -- his dream city, was destroyed by Malik Ambar, a Mogul general.
Ibrahim called himself jagadguru (world teacher). He sent several presents to emperor Akbar through Asad Beg, the emperor's emissary, and this included items considered sacred by Hindus and gold coins called navras sikkā. The inscriptions on the coins were "Navras Muhar Adilshahi Jagadguru dad Ilahi", which meant, "Navras coin of Adilshah, the god-bestowed world preceptor." The reaction of Akbar to these presents and Ibrahim's self-proclaimed world preceptorship is not known. But Asad Beg's report only confirms Ibrahim's love for Indian culture and his obsession with the Navras theory.
Under the Adilshahis, the Dakhini Urdu became more broad-based and received recognition and court patronage8. It is believed that Bijapur is the birthplace of the mushairā, an immensely popular soiree of poetic composition of later times. The new language became popular not only with kings and nobles but with scholars, teachers and commoners as well, and mushairās helped the spread of literature, along with sophisticated entertainment. Participation of the audience is a strong point of the mushairā even today. Poets are encouraged by the audience at the completion of every line with exclamations like "Wah!", "Khub!", "Suban!", "Marhaba!", and "Mukharrar!" For a long time, Persian continued as the court language and Urdu as the spoken language. Under the Adilshahis, Urdu replaced Persian as a medium for literary and communicative purposes.
The Asari Mahal (see picture no. 99) grew into a magnificent library of Persian and Arabic classics over the years. It is said that Aurangzeb took all the most valuable manuscripts away in cartloads after he conquered Bijapur in 1686 C.E. When James Fergusson visited Asari Mahal in the 1890s, the remnants were still there, "precious to the persons in charge of the building, who show them with mournful pride and regret."8
In Mysore, known as heart of Karnataka, Persian and Urdu began to take root during Hyder Ali and Tipu Sultan's time (1761-1799 C.E.). Tippu Sultan saw that every village had a masjid and a makhtāb. Hyder Ali was a soldier and a statesman but was uneducated. His son Tippu Sultan however, was well-read and took special interest in the sciences. In the latter part of his rule, Persian replaced Kannada as the court language and was given special status in schools.

Except for Ibn Batuta's account, we do not have any records of Muslim women attending public schools, but they certainly received the necessary basic education at homes in mohallās of the rich, as was the practice in medieval times. Elderly moulvis and nurses were employed to teach them. Daughters of nobles were taught reading and recitation of holy texts, embroidery, painting, indoor games and calligraphy.
Palace-women received all essential training befitting royalty. Persian and Arabic, arithmetic, music, painting, drawing and Unani medicine were some of the subjects taught. Chivalrous Chand Bibi, the princess of Ahmednagar and queen of Ali Adil Shah I, (1557-1580 C.E.) received military training like any of the Muslim princes. This enabled her to fight the Mughal army. She also knew Arabic, Persian and Turkish. She played sitār, and painting flowers was her hobby. She learned Marathi and Kannada and played a very important role as a regent during the childhood of Ibrahim Adil Shah II.
Hyder Ali obtained several beautiful girls from Lahore, Abdala, Kabul, Kandahar, Kashmir and Gujarat for his Zenana. He had them trained in dancing, singing and playing various musical instruments under the stewardship of Kuppayya, who was master of Bharatanatya shāstra and in charge of the royal theater9. Some painted panels in Dariya Daulat constructed during Tippu's time depict women playing musical instruments. It is likely that Tippu Sultan continued the system of training girls, that was started by his father.

M. M. Zuhuruddin Ahmad. Present Day Problems of Indian Education, p. 21.
N. N. Law. Promotion of Learning in Muslim India, p. 81.
Ibid, pp. 84-90.
H. K. Sherwani and P. M. Joshi. History of Medieval Deccan, Vol. II, pp. 187-188.
G. Yazdani. Bidar, Its History and Monuments, p. 24 ff.
N. N. Law. Promotion of Learning in Muslim India, p. 89.
N. N. Law. Promotion of Learning in Muslim India, p. 81; H. K. Sherwani and P. M. Joshi. History of Medieval Deccan, Vol. I, p. 397.
H. K. Sherwani and P. M. Joshi. History of Medieval Deccan, Vol. II, p. 81.
T. T. Sharma. Charitrika Dakhalegalu, p. 140.

Education in Karnataka through the ages
Preface | Buddhist Education | Jaina Education | Palm-leaf Texts | Ghatikasthana | Education of Royalty | Community Education | Vocational Training | Education of Women | Physical Education | Among Muslims | Conclusions