South India
First Online: July 01, 2001
Last Updated: January 10, 2018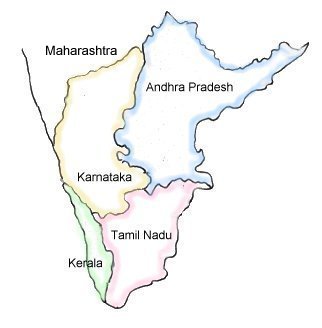 Map Showing the The Deccan Plateau and South India
The term "Deccan" comes from the Sanskrit word dakshina, meaning "the south". The Deccan Plateau encompasses the four states of Andhra Pradesh, Karnataka, Kerala and Tamil Nadu. Most of the southern peninsula is a fertile rice growing region. The term Deccan Plateau is sometimes used to indicate the region south of the Narmada river, and to include parts of Maharashtra, Gujarat, and Madhya Pradesh states.
Topics on South India
Jai Karnataka
Potpourri of topics on Karnataka's history, people, folklore and arts. Includes sub-sections on Mysore, Karavali, and North Karnataka.
Tamizhakam
Pictures and stories from the state of Tamil Nadu; includes a citation database of latest research.
Telugu Desam
Telugu monuments, history and art come together in this new section on Andhra Pradesh.
Mysore Collection
Pictures and artifacts from the old Mysore kingdom. Includes pictures of Mysore city, its museums, and gardens.
Food Habits of Vijayanagara Times
Research paper explores the food habits of Indians during the Vijayanagar times, using references in period literature, archaeology, and travelogues.
Amriteshwara Temple
All the Hindu mythologies come alive in this lesser known Hoysala temple of Tarikere town.

See Also: