The Ayyappa Cult
First Created: February 01, 2004
Page Last Updated: January 04, 2018
© Vikas Kamat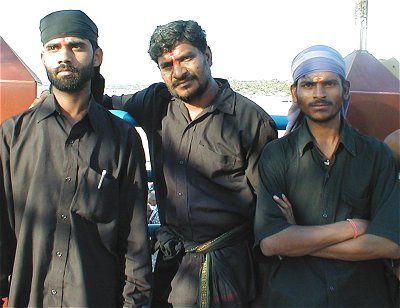 Devotees of Swami Ayyappa
Introduction
In present day India, especially in the southern parts, Lord Ayyappa of Shabarimala (in the state of Kerala) is worshipped with much devotion and fanfare. Devotees take a vow to fast for forty-one days, only eating light meals prepared to a strict code (no meats, no alcohol, no food cooked by women), and practicing abstinence. The devotees also wear black or holy clothing and undertake a pilgrimage to the temple of Shabarimala, often walking in barefoot.
The deity, Swami Ayyappan himself remains a mysterious and often misunderstood figure. Sometimes he is described as Lord Subramanya, a brother of elephant headed Lord Ganesh, and sometimes a Hariharasuta -- son of two fathers, Lord Shiva and Lord Vishnu. Several legends are in vogue about the power and glory of Ayyappan.
The followers of the cult come from all strata of the society, but only males and non-menstruating women (very young girls or those who have reached the age of menopause) take the vow of pilgrimage. During the journey, the devotees carry a sacred worship kit called Irumudi on their heads.
© K. L. Kamat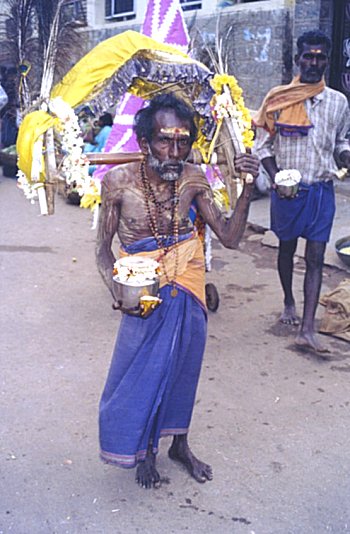 A Devotee of Swamy Ayyappan

The devotees often come under the social criticism due to their loud glorifications of Ayyappa via loud speakers and the overly male influence in the proceedings of the worship.

See Also: