Saint Ramananda
by Jyotsna Kamat
Page Last Updated: January 04, 2018
Introduction | Important Proponents | Pictures
Alvars | Shankara |Bridal Devotion | The Alvars | Ramanuja | Madhva | Ravidas
Meerabai | Guru Nanak | Chaitanya | Purandaradas
Ramananda | Kabir | Tukaram | Kanakadas
Saint Ramananda (1400 to 1480 A.D.)

"Let no one ask a man's caste or with whom eats. If a man is devoted to Hari, he becomes Hari's own." Thus declared saint Ramananda who is considered a pioneer of the Bhakti movement in North India. Political conquest of Muslims was taking root and the Indian society, ever divided over caste hierarchy was slowly forgetting its glorious past of universal brotherhood, transcendental knowledge and realization of God. Several saints appeared on the scene making people aware of age old values, especially when there was a challenge of Islamic supremacy.
Ramananda was born at Allahabad and had South Indian parentage. he studied scriptures at a very young age and was a disciple of Raghavananda, an ascetic of the Sri Vaishnava order. He went on a pilgrimage to South India and on his return, his brother saints refused to admit him into their fold, arguing that he might not have adhered to strict rules regarding food and other rituals, during his long absence. This was a rude shock to Ramananda who came out of the fold, became a liberal, practicing severe austerities on the banks of the Ganga river at Banaras. He defined his own interpretation of self-surrender and dedication to the Supreme soul. Disciples started coming in, Hindus, Muslims and Dalits (untouchables). Among them were Kabir, Ravidas and Dhanna.
According to Ramananda, Lord Rama was the supreme spirit and humanity was one big family. He was a great preacher and drew big crowds wherever he went but his poems and sayings are not preserved. Only one poem is recorded in the Guru Granth Sahib, the holy text work of Sikhs. But this single piece advocates his profound philosophy.
K.L. Kamat/Kamat's Potpourri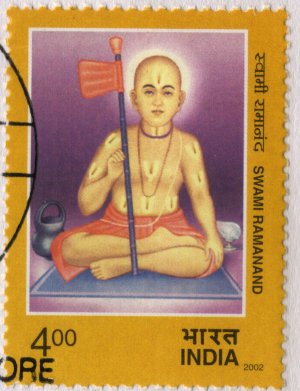 Swami Ramanand
Saint Ramanand fought against the evils of caste system and advocated devotion to reach God
"Where shall I go? The music and the festivity are in my own house. My heart does not wish to move, my mind has folded its wings. One day my heart was filled to overflowing, and had inclination to go with sandal paste and perfumes to offer my worship to Brahman. But the guru revealed that the Brahman was in my won heart... Wherever I go, I see only water and stones worshipped. But thou has filled them all with thy presence. They seek thee in vain in the Vedas! ...Thou hast put an end to all my failures and illusions. Ramananda is lost in his Master, Brahman. It is the word of the guru that destroys all the million bonds of action."
---
Introduction | Important Proponents | Pictures
Alvars | Shankara |Bridal Devotion | The Alvars | Ramanuja | Madhva | Ravidas
Meerabai | Guru Nanak | Chaitanya | Purandaradas
Ramananda | Kabir | Tukaram | Kanakadas
See Also: