Sri Ramanujacharya
by Jyotsna Kamat
Page Last Updated: May 09, 2017
Introduction | Important Proponents | Pictures
Alvars | Shankara |Bridal Devotion | The Alvars | Ramanuja | Madhva | Ravidas
Meerabai | Guru Nanak | Chaitanya | Purandaradas
Ramananda | Kabir | Tukaram | Kanakadas
Sri Ramanuja (born in 1017 A.D. -- not to be confused with the great Indian mathematician with the same name) appeared on the spiritual scene of South India ignited by the devotional revolution started by the Alvars. He came from a pious Brahmin family and studied all holy scriptures as was the practice. But he could not reconcile to monistic system and interpreted Brahma-sutras and Bhagavadgita in his own volition of synthesizing devotion and knowledge. According to him, God, the soul, and the universe together formed one reality. God is all pervading supreme spirit. The universe comes out of Him and returns to Him in cycles. He said that God-realization was possible only through Bhakti, which was a spiritual discipline.
He was a good organizer and a great liberal. He accepted a low caste Shudra as one of his Gurus. Once he imparted the sacred mantra (supposed to be the most secret imparting of a Guru to a Sishya,) his guru had revealed him, openly to the public announcing to the whole community which had gathered at the temple. On being questioned on this propriety, Ramanuja declared that if by his going to hell so many souls could be saved, he would prefer it to his own salvation. (Breach of secrecy of mantra was a sin and hell was the punishment according to the traditional belief.)
He traveled far and wide and gave a big boost to the Bhakti Movement in India. His famous works include Vedartha-sangraha, and Sribashya -- commentaries on the Upandihads and Brahma Sutras, and form the core of the Sri Vaishnava cult in India.
Vikas Kamat/Kamat's Potpourri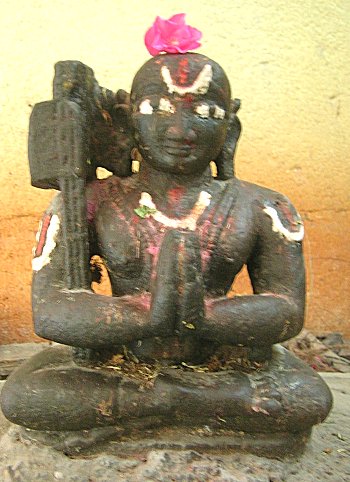 Saint Ramanujacharya
Detail from a sculpture, Mysore district, 2007

Introduction | Important Proponents | Pictures
Alvars | Shankara |Bridal Devotion | The Alvars | Ramanuja | Madhva | Ravidas
Meerabai | Guru Nanak | Chaitanya | Purandaradas
Ramananda | Kabir | Tukaram | Kanakadas
See Also:
The Holy Men of India -- Archaryas, Sages, Sadhus, and Swamis
The Iyengar Brahmins -- current day followers of Ramanuja living in Southern parts of India