First Online: June 18, 2006
Page Last Updated: May 09, 2017
The village of Ballegavi is situated twelve miles from the town of Shikaripur in Shimoga district in the state of Karnataka. The city prospered during the rule of Kadamba kings of Banavasi and many remnants of its past can be seen in the temples and ruins of the village.
K.L. Kamat/Kamat's Potpourri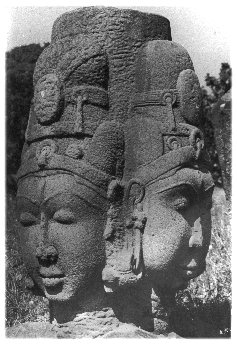 Four Headed Brahma, Ballegavi

The place is associated with several eminent Virashaiva saints like Allama Prabhu and Akka Mahadevi. Many Jain monuments such as basadis, and Nishidhi stones are found. This is an excellent place for a field trip for amateur archeologists due to the interesting erotic sculptures found and due to the fusion of the style of art and architectures -- some are in Chalukyan style, some in Hoysala school of art.
kamat.com/Kamat's Potpourri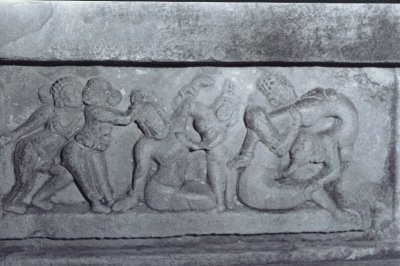 Erotica from Temple Panel
Detail from a temple panel, Village of Ballegavi

See Also:
Emerald Coast -- Articles and pictures of Uttara Kannada (North Kanara) district documented over five decades.