by K.L.Kamat
First Online in 1997
Page Last Updated: May 09, 2017
The Uttara Kannada district has numerous picnic spots, and Keertigedde is one of them. It is a tiny village located 19 kilometers east of Dodanne, on the Siddapur-Honavar road. The road is very broad, the vehicular movement very scanty, and passes through splendid ever green forest. Thus a ride from Siddapur to Keertigedde is very fascinating. The place also could be reached from Honavar and Kumta towns. On the way one can stop at Chandavar, the capital of Kadamba kings for some time. Temples and a ruined fort could be visited. There is also a Roman Catholic Church built in honor of St. Francis Xavier in 1874. If time permits, numerous inscribed hero-stones could be studied. Bastikeri has a beautiful icon of a Jain Teerthankar.
K.L.Kamat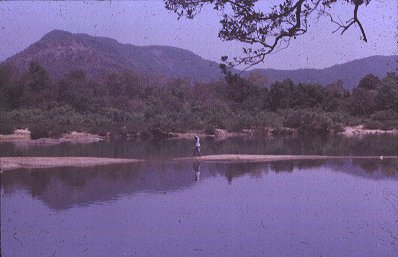 The beauty of Keertigedde in Uttara Kannada
The Dodmane river has spread out among the rocks, and gently flows in the backyard of Keertigedde. The mighty Sahyadri mountain ranges on the other bank of the river gives a picturesque backdrop to the vast expanse of river water. The river is the center of all activities of the village. The Karnataka forest department has installed a giant water pump, and had developed a beautiful wet nursery. The seedlings of teak, eucalyptus, poplar, cashew, mango, jackfruit, and casurina are raised in bountiful for the forest department's use and for public distribution. A leisurely stroll in the nursery will be very highly educative about the plants.
The village is very thinly populated by agriculturists, who live in small huts, built by themselves. Some Muslim families have also taken to agriculture and poultry farming.
There are numerous picnic spots all along the river bank. A family can take its food, and spend an entire day at Keertigedde. A long walk along the bank is a unique experience. On a full moon night, the area looks like a dreamland. One can spend a couple of days in the forest rest house by paying a nominal rent. A small tiled rest house building reminds one of the British Raj. There is a cook who can prepare both vegetarian and non-vegetarian food, with prior arrangements (1997).

See Also:
Emerald Coast -- Articles and pictures of Uttara Kannada (North Kanara) district documented over five decades.