First Online: April 25, 2005
Page Last Updated: May 09, 2017
The town of Kolar is located at the intersection of three southern states (Karnataka, Tamilnadu, and Andhra Pradesh) and serves as the headquarters of a district by the same name. Once a center of gold-mining (Kolar Gold Fields), today agriculture and sericulture are the primary professions of people of Kolar.
Archaeologically, the town of Kolar and nearby places offer a wealth of artifacts for historians. The Kolaramma temple is a rare tantric temple in which some of the ancient tantric rituals are depicted. A rare memorial to a learned woman scholar (see: Savinirmadi) has been found in Kolar.
K.L. Kamat/Kamat's Potpourri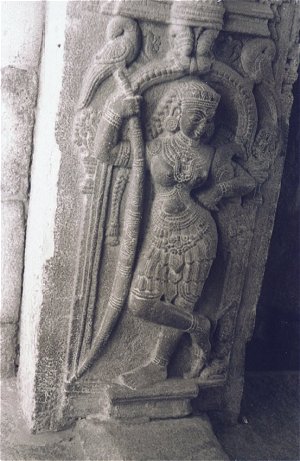 Lady with the Bow
Sculpture at the Kolaramma temple, Kolar

See Also: