Role of Mumbai in India
by Vikas Kamat
First Online: July 07, 2005
Page Last Updated: May 09, 2017
Mumbai (a.k.a Bombay) is to India what New York is to the United States. It is the financial capital, and the cultural melting pot. In addition, it is also the movie capital of India, as a lot of movies (largest in terms of numbers) are made there. Mumbai is often described as "Dariya" or an ocean in Indian lore as it is home to gaudiest of stars and penniless refugees who flock in search of a livelihood. Mumbai's got it all -- the glamour, largest of slums, largest of red-light districts, tallest sky-scrappers, busiest trains, the crowds, the money. Today about fifteen million people live in Mumbai.
It is amusing that Mumbai was the dowry gift given to Charles II of England for marrying a Portuguese Princess in 1661. Archeological evidence indicates the islands of Mumbai were habitated since ancient Buddhist times. In today's Mumbai, while communities from every nook and corner of India can be found, prominent of them are: the Kolis (native fishermen), the Maharashtrians, the Zoroashtrians, Muslims, Konkanis, and Sindhis.
The following is a potpourri of pictures of Mumbai.
Project Gutenberg/Kamat's Potpourri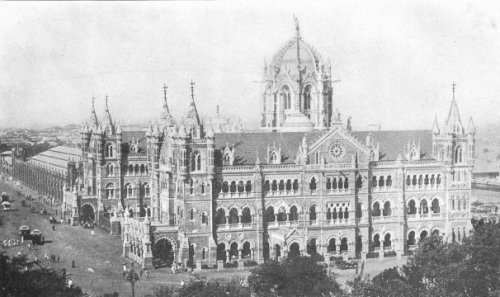 Victoria Terminus, Bombay
Known as "VT" , the Victoria Railway Station (shown here from a 1905 photo) is the hub of commuters
K.L. Kamat/Kamat's Potpourri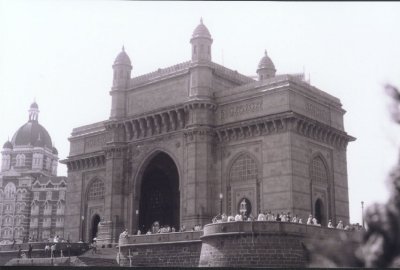 The Gateway of India
Built to commemorate visit of King George V to India in 1911
K.L. Kamat/Kamat's Potpourri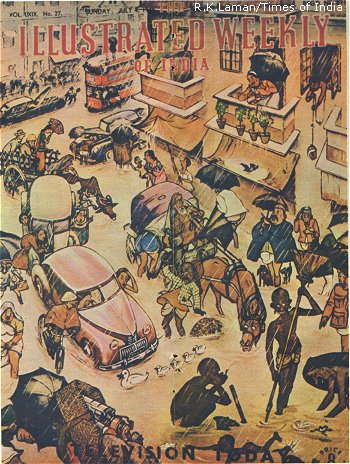 When it Pours in Bombay
Cover page of The Illustrated Weekly of India July 4, 1948 shows artist R.K. Laxman's view of Bombay on a rainy day.
National Maritime Museum/Kamat's Potpourri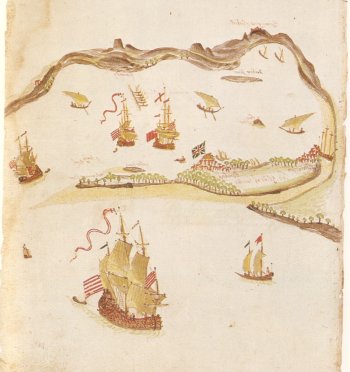 View of Mumbai Port, 1703
Detail from Edward Barlow's 1703 journal
__________________
Title of this page inspired by Mira Nair's excellent movie "Salaam Bombay".

See Also:
Search for more pictures of Mumbai