First Online: August 19, 2005
Page Last Updated: May 09, 2017
The town of Peringadi is on the bank of Mahe river (a.k.a. Mayyazhi Puzha) in Kerala. Mahe is an erstwhile French colony, and has been the battleground of feud between the local kings, the British, and the French.
There are a number of small temples, and each temple has its own annual festival in the month of January or February. The festivals are generally known as "Tira" or "Tyyyam", and celebrated with folk arts and music.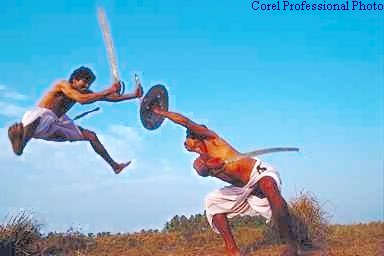 Kallaripayattu is a popular in Peringadi
Traditional martial art, known as "Kalaripayattu" is one of the favorite sports in this town.
Source: M.V. Pradeep

See Also:
Emerald Coast -- Articles and pictures of Uttara Kannada (North Kanara) district documented over five decades.