In Akashvani Mysore
Written: May 22, 2011
Page Last Updated: May 09, 2017
My promotion as first station director of All India Radio at Mysore in 1983 and my early days were not at all happy.
Every day became a challenge in the morose atmosphere, where everything looked old and dilapidated. My imaginary picture of Akashvani, (The word 'Akashvani' is Mysore's contribution to National Broadcasting Service known as All India Radio or just AIR) was a magnificent old building and a setup devised for perfectly organized listening. The studios were constructed by a German Engineer Koninsberger in Maharaja's Service. In 1950s, Central Government took over administration of all local radio stations owned by native states to have a uniform broadcasting norms for the entire country. The office and staff were shifted to Bangalore. The studios in Mysore remained locked for more than two decades. At last at the instance of R.K. Narayan the distinguished Indo Anglian writer, who suggested to Indira Gandhi, then Prime Minister of India, the station restarted. After fits and starts it got a shape and was "upgraded" with my posting!
The scanty staff there could be only named as non-understanding and non-cooperating. It is common in India, when a new station comes up, unwanted, and non-working senior staff members of bigger stations who are due for promotion, are conveniently shunted out to such places. Thus a telephone operator of fifteen years was posted at Mysore as store-keeper. A Kannada typist was made to work as assistant in planning and production of English programs and a peon was promoted as clerk in accounts. A very old one Kilowatt transmitter which was rusting at head-quarters was sent 'specially' to Mysore due to the recommendation of a retiring Chief Engineer of this city who was in Delhi and who was never tired of narrating of his munificence, to his own city.
The Radio-Engineer in charge of transmitting and broadcasting was quite unhappy at my joining. Till then, he was "Head of Office". In Indian Bureaucracy, this term "Head of Office" carries a pedantic and "prestigious(!) denomination, a halo that he or she rules the office! This leads to unnecessary clash at stations where the Directorate does not issue specific instructions regarding financial powers. Usually the person who has put in more years of service, is made the Head of Office. In a set up where only seniority and not merit or efficiency counts, "a donkey becomes a horse when older!" as my husband remarked humorously. Now I had the donkey's role at AIR Mysore. The engineer had the same difficulty with his junior staff, as I had. But I was helpless. When any proposal was sent for origination of some programmes, he rejected it. AIR Mysore produced few live music programmes but mainly relayed Bangalore station's items.
Earlier I have written about my first day in the AIR office, Memories of Mysore on this web.
Just before I took charge, all of a sudden, expansion of television service was thought of which till then was limited only to Metro cities. Smaller stations were compelled to relay, as there was no provision for production of language programs. Even Bangalore, which was not yet a Metro city, lacked this infrastructure. Hence the new medium of TV stared relaying programs in respective languages from, Madras (now Chennai) Mumbai and Delhi, much to chagrin of writers, thinkers, and lovers of Kannada language.
It was my second week in the Office. Mysore at that time teemed with good writers, musicians and other artistes. I wanted to meet them one by one, since I had read and heard but not met them. All my earlier service was outside the state and in North Karnataka. Dr. S.L. Bhyrappa the only author from Mysore whom I knew personally, dropped one afternoon, to alert me that a group of writers were coming to our AIR office to stage a protest against neglecting Kannada and 'forcing' non-language programs. They had decided to convey their strong sentiments and ban AIR. The protesters were on the way, he told and left as he had to leave for Bangalore immediately. It was indeed a kind gesture on his part.
I was not prepared for this organized protest. There were not enough chairs in the Station Director's Office. All creaking old chairs, unsteady benches and tottering stools were brought in from other rooms for the distinguished guests and coffee was ordered. Just then (late) Dr. Ha. Ma. Nayak eminent writer and Director of Kannada Research Institute, Mysore University dropped in and introduced himself. His first question was whether, I can follow Kannada. I replied positively and introduced myself as wife of Krishnanand Kamat. Dr. Ha.Ma. Nayak was pleasantly surprised, and when others dropped in, he volunteered to introduce me as wife of their (namma) Krishnanand Kamat! By then Kamat had established himself as a writer of unique travelogues and rare illustrated articles on tribals, and environmental havoc and quite a familiar name in literary circles.
They were all eminent writers, columnist, poets and thinkers like Prabhushankar, HSK, Sujana, Chaduranga and fifteen others. Ha. Ma. Nayak explained their grievances and told that they will start non-cooperation with AIR, till the Central Government stops its "step-motherly" attitude towards Kannada programmers over AIR and Doordashan.
I gave a patient listening and finally asked whether their protest was limited to Kannada spoken word only. I thought classical music was safe. "No!" one writer declared. "we will mobilize the support of all music artists as well!"
AIR Mysore at that time originated mainly music items. A good number of Karnataka Music artists were in the city. But most of them, though veterans were old. AIR was the only agency which invited them at fixed frequency and paid them royalty. This helped them with the feeling of being in circulation and got students as well.
I could not keep quiet any longer. "The ban may not affect music broadcasts, but it is going to affect the musicians" I said.
"Yes, Yes! But you will start broadcasting of records of M.S. Subbalakshmi and others. It hardly affects your organization! Dr. Nayak added gravely.
"But Sir, listeners will feel very happy and say that the quality of music of AIR Mysore has gone up like anything!" I quipped.
There was roar of laughter. But everybody understood the implication of my remark. I assured them, that I was more than convinced about their grudge and grievance. I would be writing to Directorate about the genuineness of the grievance, and try my best to be fair to Kannada language and programs.
All of them left with a pleasant farewell, without any bitterness.
Coming Soon
My subsequent days in Akashavani Mysore were to bring me a great many experiences and a number of memorable moments.
All India Radio/Kamat's Potpourri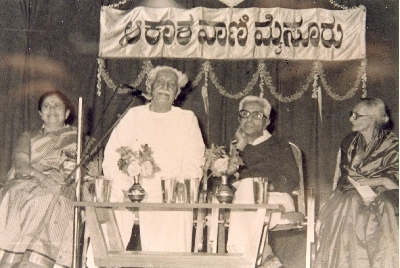 Golden Jubilee Celebration of Akashavani Mysore
(from L to R) Jyotsna Kamat, Kuvempu, A.N. Moorthy Rao, Kamala Gopalaswamy (wife of Prof. Gopalaswamy, and founder of Mysore Akashavani), March 1986
See Also:
Memoirs of Mysore -- Jyotsna Kamat recalls experiences as a Central Government employee trying to make peace with angry local activists in Memoirs of Mysore