by Jyotsna Kamat
First Written: October 1992
First Online: August 15, 1997
Page Last Updated: May 09, 2017
Dr. (Mrs.) Jyotsna Kamat served thirty years in the All India Radio (the state owned and the only network of radio stations in India at the time of writing) as a program executive, assistant director and director. Here she recollects her experiences as a broadcaster in the city of Mysore. -Ed.

First published in Tushar Monthly. October 1992. Cartoons are courtesy of the Tushar Magazine.
Arrival
After doing "God's Own Work" ("Government Work is God's Work" -- claims a banner in Karnataka ) in places such as Jaipur (in the state of Rajasthan) and Calcutta, I was too happy to be transferred to Mysore, much closer to my husband and son who were in Bangalore. "Not only I, but the Mysore Radio Station is being promoted", I exclaimed to my husband, as I was to be the senior most official the station had ever had. He let out a burst of laughter --"So much for the government wisdom; how does changing your job title make a difference to the listener ?!"
I told my husband that since there's a bus every twenty minutes between Bangalore and Mysore, I planned to commute everyday. "You do that for a couple of years and I will try to get you a Param-Veer award for your adventurous spirit" -- he poured cold water on my enthusiastic spirit. I realized the wisdom of his advice in no time and had to make arrangements of setting up accommodation in Mysore.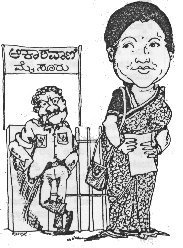 I got hold of an auto-rickshaw just outside the Mysore bus stand and asked him to take me to the radio station. He puzzlingly asked me "Railway station ? or Police station?". I realized that in terms of rickshaw drivers, the cultural capital of Karnataka was no different that the state capital and told him where I needed to go. "Oh. You want to go to Akashavani !" he exclaimed (akashavani means voice from the heavens) and drove me there.
"Can I go in ?" -- I asked the armed guard at the station with his pot belly, messy uniform and red eyes. He was in no mood, and indicated rudely to me that it was not open for public. I told him that I wish to see the director of the station. "Ha ha ha! You want to see the director ? We haven't had a director in years! Try again" said he. I then mentioned the name of a colleague who worked there and the guard was pleased and let me in. I went around the entire office once, enjoying the beautiful rose garden.
Nobody looked at me or questioned me on why I was there. It was very quiet. Finally, I entered a room from which typing sounds were heard and showed the clerk my transfer papers. He just opened his mouth wide and went apparently to his boss, the chief accountant, who hollered "The New Director !!"
Introductions
Suddenly the entire office was electrified! They showed me my office and dusted off the chairs. Someone sent a peon to get coffee, and another to fetch a fan. "Madam, you could have telephoned us in advance and we would have sent the office car to receive you" -- they complained. I told them that I needed no formal hospitality, and that we had to make ourselves comfortable with existing infrastructure to advance the station.
Then I met with a colleague/friend who had worked in that office, but was now retired. She gave me a few survival tips -- "There's a lot of difference between Bangalore and Mysore.... People here are much more formal and going by the tradition. You cannot afford to be casual here; you must maintain the status of this office and your post.... Here, clerks also wear silk sarees to work, and as their supervisor, you must pay special attention to the attire...Right now the local intelligentsia have boycotted the radio (in 1984, the Mysoreans and other Kannadigas had boycotted the central government agencies saying that Hindi was being forced upon them and wanted more Kannada programming on the radio).. there are other problems ..."
I also heard about how the previous administrator opened his first day with a press conference, listened to the problems of the station and then went on a leave of six months, before requesting a transfer.
Accommodation
I was told that in this city of palaces, it was very difficult to find ordinary housing. But the fact that I were to live alone might help. Someone suggested that Veene Jayamma, a musician and a former radio artist had a small room to let, that she had built for her old age. I recalled that, her husband, the late Dr. M.H. Krishna, was my professor's professor and instantly agreed to rent it.
It was an interesting place. While well-designed for old age, so that one need not have to move around too much, the concrete cave was inadequate for a big woman of my size. It had a pocket sized kitchen, a miniature bathroom, and even a hot water fountain (geyser). If I stepped into the bathroom or the kitchen, I had to step back to turn. The mosquitoes teamed up with ants to attack me. Every time someone knocked at the door, I had to fold the chair, roll the bed, and then only open the door. The light bulbs each had a life of their own and turned on and off whenever they felt like. However, the room was very close to the radio station and I could walk to work.
The Writers' Guild Ends Boycott
I brainstormed on how to make friends with the Writers Guild. The opportunity came by itself when they came to submit a letter of protest. I welcomed them in Kannada language to which they were extremely happy and surprised. "Oh you know Kannada!" they exclaimed and asked if I was related to the restaurateurs. I introduced myself as the wife of Dr. Krishnanand Kamat, their fellow writer.
As we talked about the new programming, I felt that the boycott had already ended! In the forthcoming days, I received a lot of cooperation and warmth from the intellectual community of Mysore. Even veterans like Kuvempu (who, by the way, had delivered the very first broadcast from the Mysore station fifty years ago) came to the station to record interviews and broadcast his message of Universal Humanity (Vishwa-Manava.) R. K. Narayan visited often to exchange ideas and to check on the tree that he himself had planted in our garden. On my request he even made his brother R.K. Laxman record interview in Kannada for us. I had several long discussions with TaRaSu who was very excited about his dream movie Shantala. He had read my book on medieval Karnataka (see some excerpts) and asked me to help him with period costumes. It's a shame that he died soon after, with the dream unfulfilled.
Once S. L. Bhyrappa and Chaduranga were visiting me at work, and the former goes --"Kamat has unique position in Kannada literature because of his essays with photographs."
"Whom are you talking about?" -- Chaduranga asked.
"Haven't you seen works of Krishnanand Kamat?"
"Of course, I have. So?"
"He's married to this lady in front of us!" as Bhyrapa said, we all laughed. Chaduranga was extremely surprised and embarrassed, "You never told me that," (Nanage HeLale illaVallA Thayee!) he took exception.