Sesha Sastry is Sixty
First Published: April 01, 2012 in Amma's Column
Page Last Updated: May 09, 2017
Dr. R. Sesha Sastry is a close friend of Kamat family for nearly three and a half decades now. It all started when young Sastry, a researcher in ancient Kannada language and literature needed photographic assistance. I met him by coincidence when he came to see his friend in All India Radio Station at Bangalore, where I was working in 1976. He was working on Viragallugalu Hero-stones of Karnataka. These memorial stones, erected in memory of brave men, women and animals, who died to save life or honor of their master/husband form important source of social history, especially, when some name, occasion and relation to the survivor are inscribed along with a picture on the hero stones.
At times, hero-stones also help reconstruction of social history of a region, when other written documents are not forthcoming. (See: Stories the Stones Tell)
Sesha was introduced to my husband Krishnanand Kamat who was running Scientific Photo Laboratory in Bangalore. A filial bond was established between the two, and both started visiting remote villages, forsaken places and deserted temples in search of hero-stones, in which Karnataka is rich. Kamat had developed love of history and archival material and had just returned from his tour of Madhya Pradesh, which was to result in his three invaluable travelogues and thousands of pictures and sketches of tribal life, historical sites, flora and fauna of that remote and scarcely explored area, along with tribal memorials. (See: Hero-stone Memorials of India)

Sastrys' book on hero-stones, profusely illustrated by him and Kamat is a landmark in Kannada historical field. It is difficult to distinguish between the language and history when both provide social data in an ancient land like Karnataka.

Sastry got his doctorate degree for this study, got a lucrative job in the Sri Krishnadevaraya University at Ananthpur, got married, has two lovely daughters who are settled comfortably. Finally he has retired as professor of Kannada and Telugu languages at Ananthpur University. His wife, Mokshagundam Sanjeeva Ratna works for Indian Telephones and is his constant companion in all worldly matters.

Sastry had brought out many scholarly papers and has translated autobiographies of great social reformers like Tirumalae Ramachandra and Gadiyaram Ramakrishna Sharma.

Sesha Sastry was felicited on March 10, 2012 at Mythic Society of Bangalore. The hall was teeming with his relatives admirers, friends and students, who together formed a testimonial of his immense popularity. Dr. M. Chidananda Murthy the veteran researcher scholar and mentor of Sesha Sastry presided over this august function, where Sastry couple were overloaded with fruits, flowers and Shawls, which indicates a sign of respect and love in Indian Society about the person felicitated.

D.G. Mallikarjuna/Kamat's Potpourri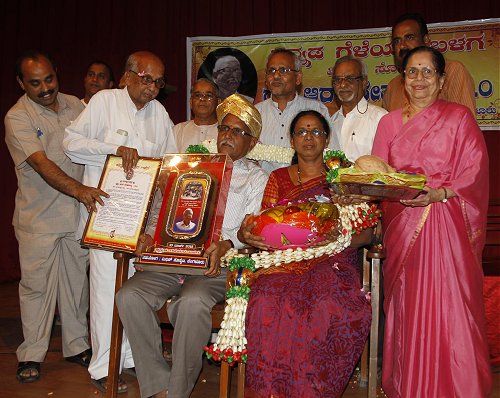 I was invited as special guest in place of my late husband, towards whom Sastry cherishes unlimited affection and respect till date. I recollected two rare events of Kamat-Sastry duo wherein they literally dugout a stone sculpture of Savi Nirmadi, a 10th century scholar and teacher in a remote village in Kolar district and a bare hero-stone of a boar hunt at Hoskote near Bangalore. This was discovered in a field belonging to a family whose ancestor had died in an attempt to kill the wild boar. It was Yugadi (New year) day. Till date, the family does not observe the great festival, in sad memory of the Dear Departed. The Hero stone without any inscription was traced by Dr. Sesha, to that particular family to whom the field belonged. It is a case of living tradition and thereby a record of family history, preserved in memory and till then orally.

All of us wished a happy retired life and creative time for Sesha Sastry family on the occasion.

Sesha Shatry Picture Album
Vikas Kamat/Kamat's Potpourri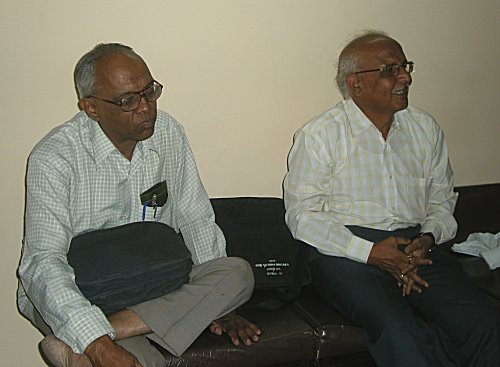 Professors K.R. Ganesh and R. Seshasastry
Bengaluru, November 2009
K.L. Kamat/Kamat's Potpourri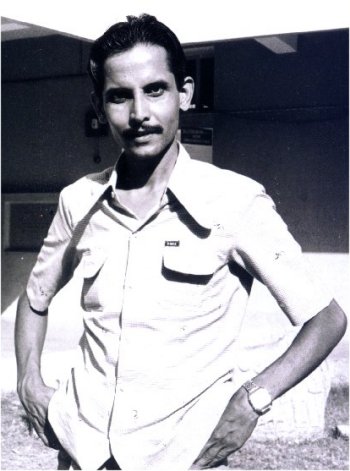 Picture of R. Seshasastry
Young Sesha Sastry as a researcher of Hero-stones. circa 1980
K.L. Kamat/Kamat's Potpourri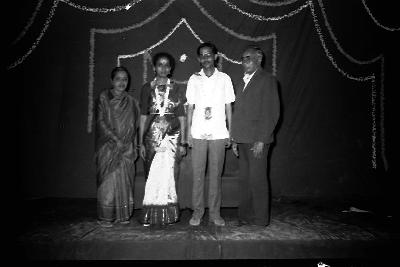 Newly Married Sesha Shastri with in-laws, 1984

D.G. Mallikarjuna/Kamat's Potpourri