by Dr. Jyotsna Kamat
Last updated May 09, 2017.
Once upon a time, the saree was a unisex clothing in India. Dr.(Mrs.) Kamat wonders if reverting to genderless attire will equate the fields for women.
In the hope of equating themselves with men, modern women imitate them in all walks of life, including dress and decoration. But there was a time in India when nobles and commoners were wearing sarees in order to look as attractive as the fair sex.
A brief history of Saree
The term "saree" (a.k.a sari, sadee, seere) is a corrupt form of Sanskrit word "chira," which means a wearable length of cloth. The Buddhist monks advocated wearing only one piece of cloth. The students of Talgunda educational institution used to get "sarees" every year, according to an inscription of the period. A detailed description of stalls which used to sell sarees, is available in a Belgaum inscription. Poet Andayya, lists a great variety of sarees of his period. Poet Bhima also gives a vivid picture of sarees in Basava Purana. Someshwara has identified different places from where these were acquired. The author of "Rajatarangini," Kallana, mentions the popularity of Karnataka saree in Kashmir.(For a more descriptive article on the Saree, see the Story of the Saree)


Nobleman of Vijayanagara Period
14th Century
Attire Across Genders and Castes
Saree or Dhotee in north India used to be most flexible dress in this country for both men and women. Being just un-sewn cloth length of longish measurement between six to nine yards, it could be worn parted and tucked breech like for horse riding, swimming and other sports tight worn and short length for martial sports and battle. It gave an elegant appearance to men when the embroidered and fully pleated sarees with big borders swayed as they walked majestically towards Durbar hall (royal senates).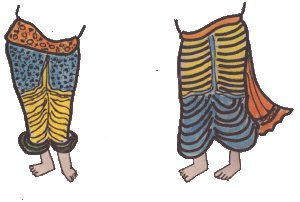 The Gentleman's Sari Closely Resembles those of the Ladies'
A few sculptures and memorials have depicted men in sarees. In wall paintings of Sravanabelgola, a saree stall in 1535 A.D., with a great variety of sarees worn by men. The two brothers, Veeranna and Virupanna, the donors of the temple are shown in loin gown on which they have worn sarees. Other nobles have also followed the suit. Commoners have worn the sarees without undergarments. A few of them have covered upper parts of their bodies with another piece of cloth. A great variety of colors and numerous designs could be noticed in these pictures. Virupaksha temple of Hampi also contains similar paintings.
Even today if only men folk could be persuaded to wear sarees the tension between men and women could be very much reduced!