Illustrations of Churapanchasika
by Jyotsna Kamat
First Online: January 01, 2010
Page Last Updated: May 09, 2017
The Pictures of the Chaurapanchasika
The painted illustrations of "Chaurapanchasika" -- a love-lyric is an illustrated monograph of famous work of the same name by Kashmiri poet Bilhana in Sanskrit (11th century). Brought out by The National Museum, Delhi in 1967 it has eighteen color plates. They were in the possession of Nanalal, Chamanlal Mehta who took his tripos at Cambridge and joined the Indian Civil Service in 1915 and spent many years in Uttar Pradesh in high government posts. A great connoisseur of art, especially of miniature paintings, he had collected good number of ancient illustrated classics, with difficulty. For more than forty years he was involved in interpreting illustrated manuscripts, some of which he published in Hindi and English. He was working on the Chaurapanchashika illustrations during a holiday in Kashmir when he suddenly died of a heart attack, in 1958 at the age of sixty-four. His daughter Ms. Leela Shiveswarkar wrote a learned preface and completed the work.
Vikas Kamat/Kamat's Potpourri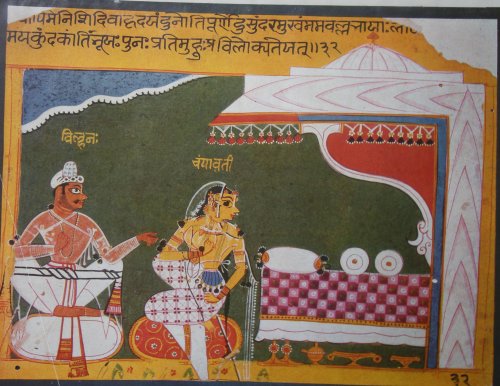 Bilhana and Champavati
Illustrated Manuscript of Chaurapanchashika
Three recessions of Chaurapanchasika (a.k.a Chaurapanchashika and Chorapanchashika) exist, with the same story but different names of the heroine viz, Champavati, Shashikala and Vidya. According to tradition, the love-lyric consisting of fifty verses (panchashika), is based on the incident of poet Bilhana himself. The story, perhaps a legend, was that the talented Kashmiri Pandit, Bilhana himself was appointed a tutor to instruct the princess. But, according to the southern recession, the father, in order to safeguard against the possible developments of the young persons of a poetic and romantic bent of mind, resorted to a naïve subterfuge. He told the princess that her tutor was but a terrible leper, and the Pandit was told that his talented disciple was blind and could not see. But the ruse was soon discovered by the Pandit and the princess, and the inevitable happened. Their illicit love was discovered and the Pandit was sentenced to death. When the latter was taken to the gallows amidst thronging crowds of popular sympathizers, and when he was asked to repent of his misdeeds, Bilhana had nothing but the fifty verses to recite, detailing his amours with his beloved, each verse beginning with the refrain, "I still remember her".
The illustrations are assigned to early part of the sixteenth century by the art historians, based on dress, settings and style of drawings and motifs. The eighteen pictures clearly indicate a traditional style of miniature painting, complimentary to texts, religious or secular. It belongs to West Indian School of native painting – known as Mewar School. Mewar region of Rajasthan, seems to have been a repository of native Rajasthani style and this method of illustrating Chaurapanchasika represents this traditional style. The pictures help to understand the lyric. "Each picture is complete in itself as a verse or quatrain of Hindi Poetry".
This love-lyric in Sanskrit was translated into Gujarathi and Marathi in the 16th century itself.

See Also:
By Jyotsna Kamat -- Dr. Jyotsna Kamat is an active contributor to Kamat's Potpourri. Read all her articles here.
Poet Bilhana -- Amma's Column on Jun 15, 2006