Sritatwanidhi Manuscript
by Vikas Kamat
First Online: December 12, 2004
Page Last Updated: January 04, 2018
The illustrated manuscript of Sritatwanidhi (in Kannada language) was created at the behest and leadership of Krishnaraja Wodeyar the Third, the Maharaja of Mysore. It is an encyclopedic work containing nine treasures (nidhi), namely Shaktinidhi, Vishnunidhi, Sivatatwanidhi, Brahmanidhi, Grahanidhi, Vaishnavanidhi, Shiavanidhi, Agamanidhi, and Kautukanidhi.
The manuscript contains about 1500 pages and includes a thousand illustrations, in glorious color. It is said the the king chose the best artists from his kingdom for this work and it is the most important illustrated works of the period. The paintings are excellent examples of period art and technique of Karnataka.
The manuscript describes traditional poetry, arts, music, as well as contemporary games, and entertainment. Here are some paintings from Sritatwanidhi.
© K. L. Kamat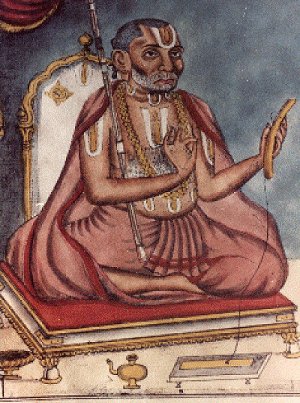 Chief of Parakalmatha

© K. L. Kamat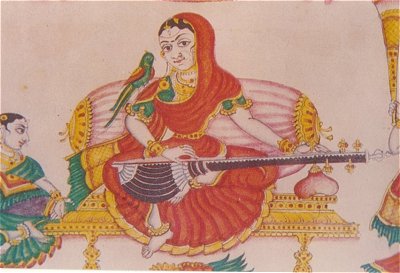 Woman Plays Gurjariraga Note

Reference
Ramachandrarao S.K. (Ed), Sri Tattva Nidhi of Mummudi Krishnaraja Wodeyar, Kannda University, Hampi, 1992
See Also: