The Hero-stone Memorials
by Dr. Jyotsna Kamat

First Online: August 01, 2000
Page Last Updated On: May 09, 2017
Hero-stones (a.k.a. Mahasati stones or Veeragals) are carved stones erected in the honor of a brave man or woman who perished while defending the interests of the village (such as while fighting bandits who attempted to steal cattle, or invaders who abused women).
© K. L. Kamat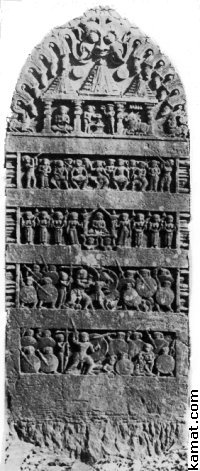 A Hero-stone from Karnataka

Notice in the hero stone at the bottom the narration of the heroics. In the bottom row of the stone is fire, arson and war, while in the third row, death and sati are depicted. As presented in the top-most row, the glorification of the dead person's bravery and sacrifice continue as long as the sun and moon prevail.
Sati-stones (also sometimes called Mahasati-stones) are stones erected in the honor of wives who committed suicide after their husband's untimely death. The glorification of the Sati practice is typically found on these stones.
Nishidhi-stones are pillars or stones erected in the memory of those who died in the course of Sallekhana. Sallekhana, or the "death-inviting" practice, was performed by devout Jains who meditated and starved until death.

Pictures of Hero-stone Memorials

See Also: