The Lungi Page
by Vikas Kamat
First Online: April 02, 2007
Page Last Updated: May 09, 2017
The Lungi (also known by many other names, sometimes with some delicate differences between them, see below) is a long piece of cloth wrapped around the waist, that is popular in various parts of India, especially in South India. It can be worn by both men and women, and can be worn as a wrap unstitched, or with a simple privacy stitch.
© K. L. Kamat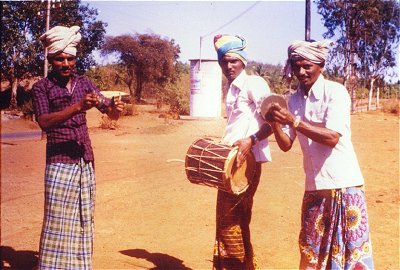 Colorful Lungis Indicate Festive Moods
Differences between Dhoti, Lungi, Veshti etc.
While a lot of people use these terms interchangeably, there are distinct differences between the terms. The Dhotar or Dhoti is made with very fine cotton and is much longer in length than a Veshti or Mundu, which are not designed to run between the legs. One can go to a wedding in Dhoti, but never in a Lungi. The Lungis and Mundu can be worn in half-fold.
The following table lists the differences between each of the types of unstitched clothing worn by men in India around the waist. (see also: Turbans )
| | | |
| --- | --- | --- |
| Lungi | Colors | Type of Attire |
| Dhotar or Dhoti | White | Formal Wear |
| Mundu, Veshti | White | Formal Wear |
| Lungi | Colored, Checkered or Flowery | Informal Wear, Nightwear |
| Half Lungi | no limit | Work outfit |
| Panji or Panche | White | Ritual wear, Nightwear |
| Pitambar | Red or Orange | Ritual wear |
The Song of the Lungi
When in white, you are my formal wear.
When in design, you are a festival!
What good are those trousers?!
If I wrap you around my head,
you become a turban.
You are a blanket if I am cold.
And a sail when the wind is good.
After I play in the sea,
you become my towel.
A flag when I wave
A trap to catch the mango!
Ready for Cricket when I fold you in half,
Ready for hanging when I twist you as a rope
ready as bed when I'm struck at fairs

You become a shawl when I need modesty
and a carrying bag during a loot.
The trousers are no good!
Inspired by the "Trousers are no Good!" folksong, which in turn is inspired by the classic "Neenarigadeyo Ele Manava" (the humans are no good).

Pictures of Lungi
K.L. Kamat/Kamat's Potpourri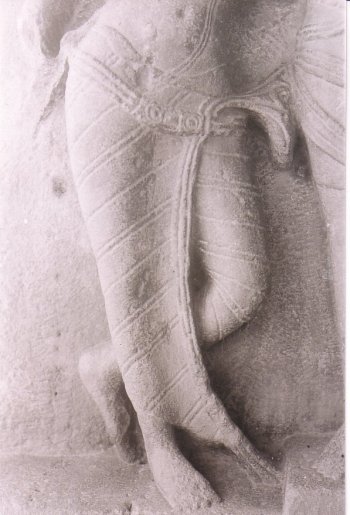 Ancient Lungi ?
Detail from a medieval sculpture in Karnataka
© K. L. Kamat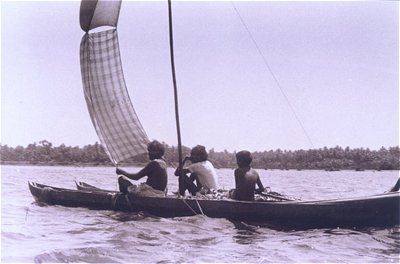 Fishermen Using Lungi as Sail
K.L. Kamat/Kamat's Potpourri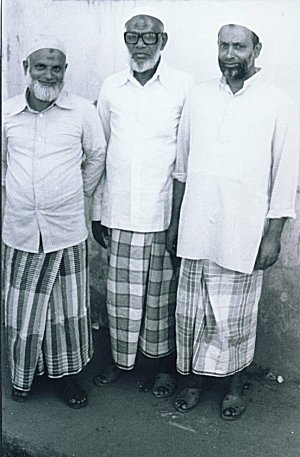 Muslim Elders
Notice their checkered "Maulana" lungis. Town of Bhatkal, 1983
See Also: