How to Pick a Saree
How to Buy a Saree
A Buyer's Guide by Vikas Kamat
Last Updated: May 09, 2017
"Saree is just a name.
Joy to my heart is what it is.
I see the love of my lover in it,
and the beauty of my womanhood."
An Indian pop song on the passion a Sari holds for the Indian Woman.
My family has sold the Sarees (a.k.a. Sari, sadi) for over a hundred years now, and here are a few words of wisdom, and a guide to buying a Saree.
Parts of a Saree
Learning the parts of the Saree is important so you can talk to the vendor in technical terms. The following picture illustrates the different parts of the saree. (They are known by different names in different parts of India)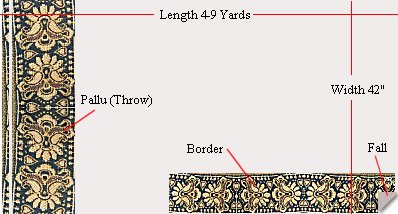 Various Constituents of a Saree
Pick a Fiber
One of the first questions we ask at the Kamat Shop is the purpose of buying the saree. Is it a gift to a lover? Is it for daily use or for festivities? Is the purchase motivated by a recent buy from a neighbor? (We ask them -"You mean like the one your neighbor bought the other day?!") This not only determines the price-range of the Saree, but also the fiber. Your choices are listed below, with sub choices in parenthesis.
Cotton (Handloom, Power loom, Janata -- Government subsidized cotton, Calico--processed cotton)

Synthetic (Rayon, Polyester)

Silk (Banaras, Kanjeevaram, Irakal)

Jersey or poor man's silk
Pick a Texture
Sarees come in plethora of decorations: Zari (embroidered is fine gold fiber) works, glass works, prints, woven, Bandani (tie-dyed), embroidery, brasso are some of your choices.
Pick the Length
The most common length for a Saree these days is approximately. five meters (six yards). But depending on your body shape and style of wearing the Saree, you can decide on a specific length. Your choices would besarees of four yards, six yards, eight yards (almost obsolete now), and nine yards.
Pick a Color and Design
This is the hardest part. So many choices, so little time. For weddings we recommend derivatives of red with Golden Zari. For daily use, we usually recommend the off-brand name printed cotton sarees. For the fashion conscious, we recommend those being currently shown in television advertisements. Your choices include, but not limited to:
Printed floral designs and themes

Inter-woven designs (the reversible Sari)

Plain colored saree with designer pallu (or vice versa)

Saris with borders, without borders, or borders on either sides

Sarees with pallu, without pallu

Sarees with attached blouses
Pick a Brand Name
Some of the popular brand names for sarees are: Vimal, Khatau, and those from RajKamal Mills.
Resist Vendor Pressure
The vendors fully understand the romance this purchase holds to you. But resist temptations. Modus Operandi:
"Can't decide between the purple and the golden? Get both"

"Girl, if you cannot decide on a Saree, how will you ever decide on a groom?"

"I know your budget is tight, But just for a little more money, You can buy what Madhuri Dixit buys"

"This is the latest fashion in Mumbai"
Buy Matching Accessories
A Saree being an unstitched piece of cloth, is vulnerable to borrowing by siblings, in-laws and friends. One of the ways to to customize the Saree is to find the exactly matching blouse and under-skirt, which are custom made for the person (cannot be borrowed).
While at it, do not forget the fall (see picture above), and a matching handkerchief.
Buy a Kamat Saree
Next time you are in Honavar, do visit our historic saree shop. We will help you pick the Saree of your dreams!
See Also: