Ibrahim Adil Shah II
by Jyotsna Kamat
First Online: January 3, 2001
Last Updated: January 10, 2018
Ibrahim Adilshah II, the fifth king of the Bahamani dynasty is known in the Indian history as "Jagadguru Badshah." He tried to bring in cultural harmony, between the Shiyas and the Sunnis (sects within Islamic religion) and between Hindus and Muslims through music. He was a great lover of music, played musical instruments, sang and composed praises of Hindu deities Saraswati and Ganapati. He wrote the book Kitab-E-Navras (Book of Nine Rasas) in Dakhani. It is a collection of 59 poems and 17 couplets. According to his court-poet Zuhuri, he wrote it to introduce the theory of nine Rasas, which occupies most important place in Indian aesthetics, to acquaint people who were only brought up in Persian ethos. The book opens with prayer to Saraswati, the Goddess of learning. He claimed that his father was divine Ganapati and mother the Holy Saraswati. For him, the Tanpura personified learning -- "Ibrahim the tanpurawala became learned due to grace of god, living in the city of Vidyanagari" (Vidyanagari is the earlier name of Bijapur.)

© K. L. Kamat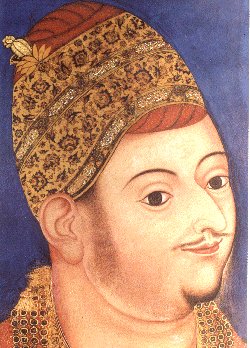 Ibrahim Adilshah II (1580-1627 A.D.)
Ibrahim II publicly declared that all he wanted was Vidya or learning, music, and Guruseva (serving the teacher.) He was a devotee of Hazrat Banda Nawaj, the Sufi saint of Gulbarga. He has composed a prayer to him to bestow Vidya or learning and charitable disposition.
He founded a new township Navraspur to give concrete shape to his musical conception or idea of a musical city. He had a temple built inside the precincts of the palace which still exists. Considering that Islam does not recognize music as a path of devotion, it is surprising on the part of this king not only to master it but trying to popularize it, and govern through it.
Bijapur attracted best musicians and dancers of the period because the king was famous as a great connoisseur and patron of music and it was a unique privilege to get recognition from him.
bhaka nyari nyari bhava ek
kaha turuk kaha barahaman
"Whether a Muslim or a Brahmin with different language--emotion is the same."
nouras soor juga joti ani saroguni
yusat sarasuti mata
ibrahim parasada bhayi dooni
"Oh mother Saraswati! Since you have blessed Ibrahim, his work Navras will last for long"
He has composed poems on his wife Chand Sultana, his Tanpura Motikhan and his elephant Atish Khan. He spoke Marathi, Kannada languages fluently, and like his predecessors, employed several Hindus in top posts.

See Also: