The Cholas
First Online: June 09, 2001
Page Last Updated: January 10, 2018
The Chola Dynasty
300 B.C. to 1250 A.D.
The Cholas are the earliest and the most ancient among the South Indian royal houses. The artifacts of the period found in South India mention Mahabharata as well as Ashokan edicts. But their climax came between the 9th and 13th centuries when they ruled the entire south, east and part of the western coast. They conquered Ceylon (Sri Lanka), Srivijaya, Malaya, and the Maldives islands. They had powerful navy and their marine trade and commerce extended to far east. Their art and architecture have their impact in Sumatra and Java islands of Indonesia, and in many parts of Malaysia.
Corel Professional Photo/Kamat's Potpourri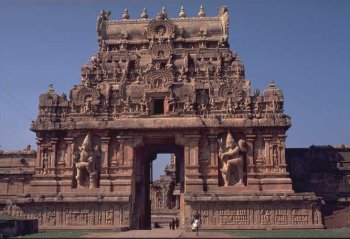 Brihadishwara Temple of 10th Century
Entrance to Gopuram, Thanjavur, Tamilnadu
The Brihadeshwara temple of Tanjore, also known as the Rajarajeshwara temple, named after the illustrious king who built the 180 ft. long vimana (tower -- see also: components of a temple) of the temple is a fine example of Chola architecture. It is considered to be the biggest vimana in the country. Chola style temples are scattered throughout the Southern peninsula. Their local self-government temple administration and dispensing justice were an ideal in the medieval world. Copper-plate inscriptions and coinage have left a very long tradition. The stone inscriptions in big numbers have helped to reconstruct the Indian history.
K.L. Kamat/Kamat's Potpourri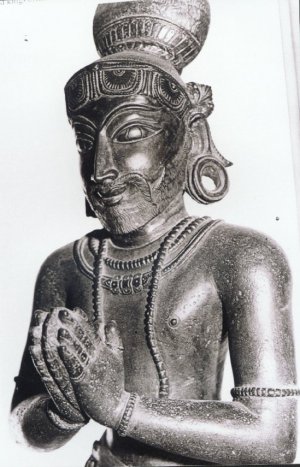 Shivabhakta -- a Devotee of Lord Shiva
Chola sculpture from Tamil Nadu
See Also: