Krishnaraja Wodeyar III
by Jyotsna Kamat
First Published: May 04, 2006
Page Last Updated: May 09, 2017
Mummadi, the multi-talented monarch Mummadi Krishnaraja Wodeyar of Mysore (1794-1868)
Krishnaraja Wodeyar III, more commonly referred to as Mummadi Krishnaraj Wodeyar (mummadi stands for 'three' in Kannada) was a remarkable king who has left a mark of many memorable traditions. Though he failed in the eyes of the British as an incompetent administrator, he was loved and respected for his humane, charitable and kind nature by his subjects, more so for encouraging several arts and crafts.
Mummadi ascended the throne of newly created state of Mysore state as child-king in 1799 C.E, after the fall of Tippu Sultan in the fourth battle of Mysore. His mother the Dowager queen Lakshmiammanni was an astute regent. She played important role in re-establishment of rule of Wodeyars. Under her and Dewan Purnaiah's able guidance the boy king got good training initially.
K.L. Kamat/Kamat's Potpourri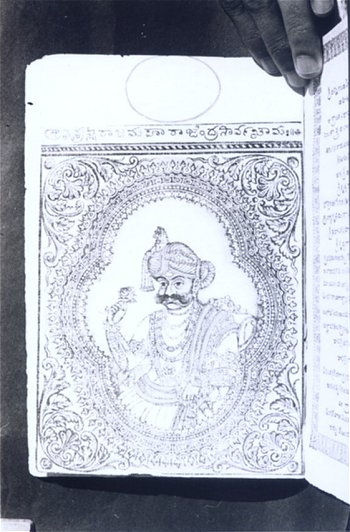 Mummadi Krishnaraja Wodeyar
Illustration from Sougandhika Parinaya manuscript
Lakshmiammanni passed away in 1810 A.D. and Purnaiah, soon after in the year 1811. Thus Mummadi lost both his mentors in quick succession, and was left to fend for himself. His advisers in governing the state were not foresighted, or skillful. In the long run, administration of the state suffered.
Mummadi was a man of varied interests. He was a voracious reader and a good writer himself. He is credited with several book in Kannada of which 'Shritattvanidhi' and 'Sougandhikaparinaya' are better known. He knew several languages. Besides Sanskrit and Kannada he could read and write in Persian, Hindi, Telugu, Tamil and Marathi languages ; he also knew English.
He played the Veena instrument and patronized great musicians and composers of his time like Sadashiva Rao, Veena Venkatasubbayya and Doddaseshanna. Well known commentators of shastras, grammarians and poets adorned his court.
He encouraged dance, drama and Yakshagana. Viswanathayya, father of legendary Bidaram Krishnappa, enjoyed his patronage.
Krishnaraj Wodeyar the Third, encouraged graphic arts. A good number of artists were engaged to paint court-life in all its grandeur.
The art portraiture developed as a fine art in Mysore during Mummadi's rule. He had several portraits of well known people of the kingdom painted by the best artists. Today they form a very valuable resource for researchers because of the visual clues they provide. He was responsible for the creation of the Jaganmohan art gallery of Mysore, and built the original building in 1861. He was greatly interested in painting. The grandfather of famous K. Venkatappa was his personal friend.
Mummadi should be credited with documenting a visual history of his period
Mummadi introduced English education in Mysore state, by starting Maharaja's English School which paved way for the famous Maharaja's college and finally, the Mysore University.
The first hospital of English medicines appeared in the capital city. He greatly encouraged Ayurvedic medicine (traditional Indian medicine) and other native systems as well.
The capital city was transferred from Srirangapattana to Mysore and the latter was to become a seat of learning and center of several fine arts in later years. City of Bangalore was given to British, specially for cantonment facility.
Mummadi's greatest contribution was in reviving traditional art of painting which has later acquired the name of Mysore Traditional Painting. Started as a palace art, it became immensely popular because of its special ornamentation, delineation, and colorful presentation. All popular deities of the region came to be presented in Mysore style of painting. Special mention may be made of Chamundeshwari, Titular deity of Wodeyars, Rajarajeshwari, Rama, Krishna, various avatars of Shiva and Vishnu. There were many pavilions (Tottis) attached to the palaces which represented traditional style as well as an admixture of traditional and western art (called "Company Art"). The variety in thematic presentation of whatever is available today of Mysore School, makes a glorious chapter in native Schools of Painting.
By then the lithograph technology had come into existence. Many books Mummudi wrote and got written have profuse pictures and line-drawings. Religious texts and recitation booklets were illustrated. These were within reach of common man. No doubt the talented king came to be popular by such measures and many other charitable acts.

See Also: