Ganesh Festival
Festivals of India: The Ganesh Chaturthi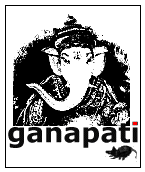 Page First Online: July 23, 2000
Page Last Updated: May 09, 2017
Ganesh Chaturthi is celebrated as the birthday of Lord Ganesh on the fourth day (Chaturthi) of the bright fortnight of Bhadrapada month of Hindu calendar. It is among the most celebrated of the festivals in India, and perhaps the only one involving general public (others only involve families and friends and are celebrated privately).
It is interesting to note that the festival was not celebrated until the times of Lokamanya Bal Gangadhar Tilak, who used it a great means to unite Hindus all over India and educate them the evils of colonization.
The festivities include fund-raising, building all kinds of innovative forms Ganesh idols, organizing public performances of music and dance, cooking grand feasts and making a lot of noise. The festivities end when the idol of the year is immersed in water (visarjan), accompanied by loud shouts of Ganapati Bappa Moraya!
Lokamanya Tilak (portrait - biography) visualized the cultural importance of this diety and brought in Ganesha Chaturthi as National Festival. It was an important festival during Peshwa rule in Maharashtra, but acquired more organized from all over India during the Swaraj movement (see Tryst with Destiny -- The story of India's struggle for freedom remains as a guiding light for resolving the various conflicts around the globe). It made way for learned discourses, dance dramas, poetry recital, musical concerts bringing together all castes and communities who vied with enthusiasm in organizing this public festival. The all-pervading Gajanana (another name of Ganesh) has countless temples all over India and is worshipped with more affection than awe in every Hindu home.

See Also: