The Festival of Holi
© K. L. Kamat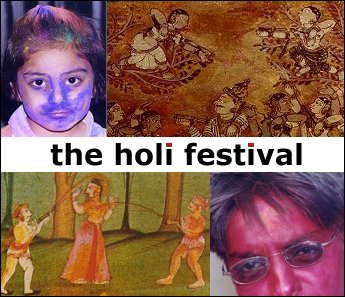 The colorful festival of Holi is celebrated in most parts of India during February-March (in the month of Phalguna according to the Hindu calendar). The celebrations vary depending on region and local traditions but the common part is exchange of colors.
Legends of Holi
Holika was an aunt of a boy named Prahlad, who died in the fire arguing against her king brother Hiranyakashipu who had declared himself as God. In her honor, an effigy of Holika is burnt in a bonfire in some parts of India.
Holi was also the day when Kama, the God of Love disturbed Lord Shiva's meditation and was burnt down by Shiva. An effigy of Kama is burnt in some parts of India on the day of the Holi festival.
Holi was also the name of a female demon Putana who tried to kill boy Krishna, by giving him her poisoned nipples to suckle. The miracle boy Krishna is said to have sucked so intensely that he drained the demon of her life. Hence the biggest celebration of Holi takes place at Mathura.
Celebrations
On the day of the Holi, people (men and women) irrespective of caste and creed mingle together and exchange colors. The celebrations can get wild and rowdy -- it is one of the few occasions of the year that the sexes are allowed to mix freely. People use tools and tricks to spray, paint and drown friends and relatives in color as the accompanying picture exhibit will demonstrate.
Table of Contents

See Also:
Colors of India -- Are you one of those who felt our site lacks color? While it is true that most of our content is in black and white, we bring you this delightful presentation on colors of India.